• It's not every day that a UK haulier gets
6th February 1992
Page 30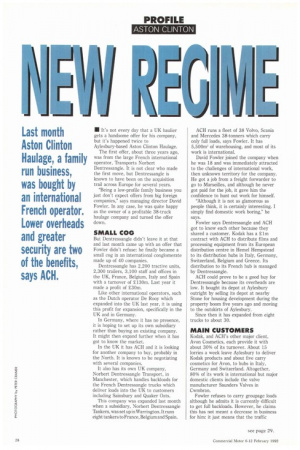 Page 35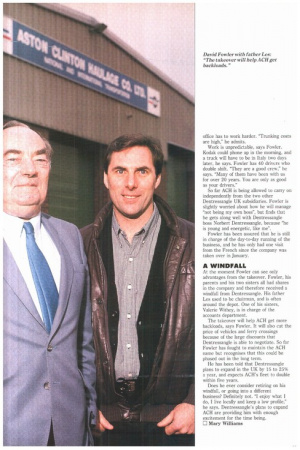 Page 36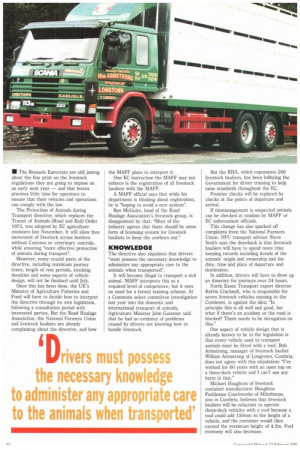 Page 30, 6th February 1992 —
• It's not every day that a UK haulier gets
Close
a handsome offer for his company, but it's happened twice to Aylesbury-based Aston Clinton Haulage.
The first offer, about three years ago, was from the large French international operator, Transports Norbert Dentressangle. It is not clear who made the first move, but Dentressangle is known to have been on the acquisition trail across Europe for several years.
"Being a low-profile family business you just don't expect offers from big foreign companies," says managing director David Fowler. In any case, he was quite happy as the owner of a profitable 38-truck haulage company and turned the offer down.
SMALL COG
But Dentressangle didn't leave it at that and last month came up with an offer that Fowler didn't refuse: he finally became a small cog in an international conglomerate made up of 40 companies.
Dentressangle has 2,200 tractive units, 2,300 trailers, 3,100 staff and offices in the UK, France, Belgium, Italy and Spain with a turnover of £.130m. Last year it made a profit of £30m.
Like other international operators, such as the Dutch operator De Rooy which expanded into the UK last year, it is using this profit for expansion, specifically in the UK and in Germany.
In Germany, where it has no presence, it is hoping to set up its own subsidiary rather than buying an existing company. It might then expand further when it has got to know the market.
In the UK it has ACH and it is looking for another company to buy, probably in the North. It is known to be negotiating with several companies.
It also has its own UK company, Norbert Dentressangle Transport, in Manchester, which handles backloads for the French Dentressangle trucks which deliver loads into the UK to customers including Sainsbury and Quaker Oats.
This company was expanded last month when a subsidiary, Norbert Dentressangle Tankers, was set up in Warrington. It runs eight tankers to France, Belgium and Spain.
ACH runs a fleet of 38 Volvo, Scania and Mercedes 38-tonners which carry only full loads, says Fowler. It has 5,500m2 of warehousing, and most of its work is international.
David Fowler joined the company when he was 18 and was immediately attracted to the challenges of international work, then unknown territory for the company. He got a job from a freight forwarder to go to Marseilles, and although he never got paid for the job, it gave him the confidence to hunt out work for himself.
"Although it is not as glamorous as people think, it is certainly interesting. I simply find domestic work boring," he says.
Fowler says Dentressangle and ACH got to know each other because they shared a customer. Kodak has a Elm contract with ACH to distribute films and processing equipment from its European distribution centre in Hemel Hempstead to its distribution hubs in Italy, Germany, Switzerland, Belgium and Greece. Its distribution to its French hub is managed by Dentressangle.
ACH could prove to be a good buy for Dentressangle because its overheads are low. It bought its depot at Aylesbury outright by selling its depot at nearby Stone for housing development during the property boom five years ago and moving to the outskirts of Aylesbury.
Since then it has expanded from eight trucks to about 30.
MAIN CUSTOMERS
Kodak, and ACH's other major client, Avon Cosmetics, each provide it with about 30% of its turnover. About 15 lorries a week leave Aylesbury to deliver Kodak products and about five carry cosmetics for Avon, to hubs in Italy, Germany and Switzerland. Altogether, 80% of its work is international but major domestic clients include the valve manufacturer Saunders Valves in Cwmbran.
Fowler refuses to carry groupage loads although he admits it is currently difficult to get full backloads. However, he claims this has not meant a decrease in business for him: it just means that the traffic office has to work harder. "Trunking costs are high," he admits.
Work is unpredictable, says Fowler. Kodak could phone up in the morning, and a truck will have to be in Italy two days later, he says. Fowler has 40 drivers who double shift. 'They are a good crew," he says. "Many of them have been with us for over 20 years. You are only as good as your drivers."
So far ACH is being allowed to carry on independently from the two other Dentressangle UK subsidiaries. Fowler is slightly worried about how he will manage not being my own boss", but finds that he gets along well with Dentressangle boss Norbert Dentressangle, because "he is young and energetic, like me".
Fowler has been assured that he is still in charge of the day-to-day running of the business, and he has only had one visit from the French since the company was taken over in January.
A WINDFALL
At the moment Fowler can see only advantages from the takeover. Fowler, his parents and his two sisters all had shares in the company and therefore received a windfall from Dentressangle. His father Les used to be chairman, and is often around the depot. One of his sisters, Valerie Withey, is in charge of the accounts department.
The takeover will help ACH get more backloads, says Fowler. It will also cut the price of vehicles and ferry crossings because of the large discounts that Dentressangle is able to negotiate. So far Fowler has fought to maintain the ACH name but recognises that this could be phased out in the long term.
He has been told that Dentressangle plans to expand in the UK by 15 to 25% a year, and expects ACH's fleet to double within five years.
Does he ever consider retiring on his windfall, or going into a different business? Definitely not. "I enjoy what I do, I live locally and keep a low profile," he says. Dentressangle's plans to expand ACH are providing him with enough excitement for the time being.
CI Mary Williams • The Brussels Eurocrats are still jawing about the fine print on the livestock regulations they are going to impose on us early next year — and that leaves precious little time for operators to ensure that their vehicles and operations can comply with the law.
The Protection of Animals during Transport directive, which replaces the Transit of Animals (Road and Rail) Order 1975, was adopted by EC agriculture ministers last November. It will allow free movement of livestock across borders without Customs or veterinary controls, while ensuring "more effective protection of animals during transport".
However, many crucial parts of the directive, including maximum journey times, length of rest periods, stocking densities and some aspects of vehicle design, will not be finalised until July.
Once this has been done, the UK's Ministry of Agriculture Fisheries and Food will have to decide how to interpret the directive through its own legislation, following a consultation period with interested parties. But the Road Haulage Association, the National Farmers Union and livestock hauliers are already complaining about the directive, and how the MAFF plans to interpret it.
One EC instruction the MAFF may not enforce is the registration of all livestock hauliers with the MAFF.
A MAFF official says that while his department is thinking about registration, he is "hoping to avoid a new system".
Ben McGuire, head of the Road Haulage Association's livestock group, is disappointed by that: "Most of the industry agrees that there should be some form of licensing system for livestock hauliers to keep the cowboys out."
KNOWLEDGE
The directive also stipulates that drivers 'must possess the necessary knowledge to administer any appropriate care to the animals when transported'.
It will become illegal to transport a sick animal. MAFF interprets this as a required level of competence, but it sees no need for a formal training scheme. At a Commons select committee investigation last year into the domestic and international transport of animals, Agriculture Minister John Gummer said that he had no evidence of problems caused by drivers not knowing how to handle livestock.