Mopro has been cleared
6th February 1992
Page 15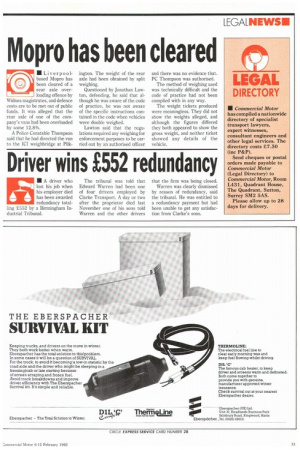 Page 15, 6th February 1992 —
Mopro has been cleared
Close
• Liverpoolbased Mopro has been cleared of a rear axle overloading offence by Widnes magistrates, and defence costs are to be met out of public funds. It was alleged that the rear axle of one of the company's vans had been overloaded by some 12.8%.
A Police Constable Thompson said that he had directed the van to the ICI weighbridge at Pilk ington. The weight of the rear axle had been obtained by split weighing.
Questioned by Jonathan Lawton, defending, he said that although he was aware of the code of practice, he was not aware of the specific instructions contained in the code when vehicles were double weighed.
Lawton said that the regulations required any weighing for enforcement purposes to be carried out by an authorised officer and there was no evidence that. PC Thompson was authorised.
The method of weighing used was technically difficult and the code of practice had not been complied with in any way.
The weight tickets produced were meaningless. They did not show the weights alleged, and although the figures differed they both appeared to show the gross weight, and neither ticket showed any details of the vehicle.