Dealer markets 80 Series 6x2
6th February 1992
Page 10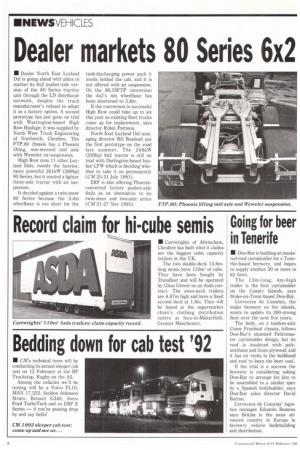 Page 10, 6th February 1992 —
Dealer markets 80 Series 6x2
Close
• Dealer North East Leyland Daf is going ahead with plans to market its 6x2 pusher-axle version of the 80 Series tractive unit through the LD distributor network, despite the truck manufacturer's refusal to adopt it as a factory option. A second prototype has just gone on trial with Warrington-based High Row Haulage; it was supplied by North West Truck Engineering of Northwich, Cheshire. The F1'P.80 chassis has a Phoenix lifting, non-steered mid axle with Weweler air-suspension.
High Row runs 11 other Leyland Dafs, mostly the heavier, more powerful 261kW (360hp) 95 Series, but it wanted a lighter three-axle tractor with air suspension.
It decided against a twin-steer 80 Series because the 3.4m wheelbase is too short for the tank-discharging power pack it needs behind the cab, and it is not offered with air suspension. On the 80.33FTP conversion the 4x2's 4m wheelbase has been shortened to 3.8m.
If the conversion is successful High Row could take up to six this year as existing fleet trucks come up for replacement, says director Robin Pattison.
North East Leyland Daf managing director Bill Beadnall put the first prototype on the road last summer. The 246kW (330hp) 6x2 tractor is still on trial with Darlington-based haulier CFW which is deciding whether to take it on permanently (CM 25-31 July 1991).
ERF is also offering Phoenixconverted factory pusher-axle 6x2s as an alternative to its twin-steer and two-axle artics (CM 21-27 Nov 1991).