Servo 'Braking for Light Vans D ERSIGNED for use on 30-40
6th February 1948
Page 50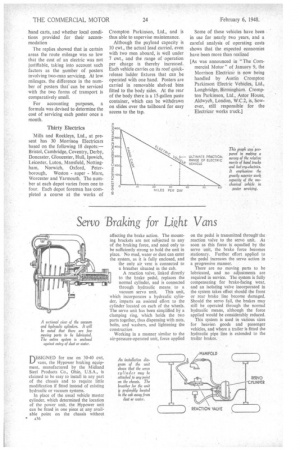 Page 50, 6th February 1948 —
Servo 'Braking for Light Vans D ERSIGNED for use on 30-40
Close
cwt. vans, the Hypower braking equipment, manufactured by the Midland Steel Products Co., Ohio, U.S.A., is claimed to be easy to install in any part of the chassis and to require little modification if fitted instead of existing hydraulic or vacuum systems.
In place of the usual vehicle master cylinder, which determined the location of the power unit, the Hypower unit can be fitted in one piece at any available point on the chassis without A36 affecting the brake action. The mounting brackets are not subjected to any of the braking force, and need only to be sufficiently strong to hold the unit in place. • No mud, water or dust can enter the system, as it is fully enclosed, and the only air vent is connected to a breather situated in the cab.
A reaction valve, linked directly to the brake pedal, replaces the normal cylinder, and is connected through hydraulic means to a vacuum servo unit. This unit, which incorporates a hydraulic cylinder, imparts an assisted effort to the cylinder located on each of the wheels. The servo unit has been simplified by a damping ring, which holds the two parts together, thus dispensing with nuts, bolts, and washers, and lightening the construction Working in a manner similar to the air-pressure-operated unit, force applied on the pedal is transmitted through' the reaction valve to the servo unit. As soon as this force is equalled by the servo unit, the brake force becomes stationary. Further effort applied to the pedal increases the servo action in a progressive manner,
There are no moving parts to be lubricated, and no adjustments are required in service. The system is fully compensating for brake-facing wear, and an isolating valve incorporated in the system takes effect should the front or rear brake line become damaged. Should the servo fail, the brakes may still be operated through the normal hydraulic means, although the force applied would be considerably reduced.
This system is used in various sizes for heavier, goods and passenger vehicles, and where a trailer is fitted the hydraulic pipe line is extended to the trailer brakes.