Newcomer to Bus Market Introduces 32-seater
6th February 1948
Page 44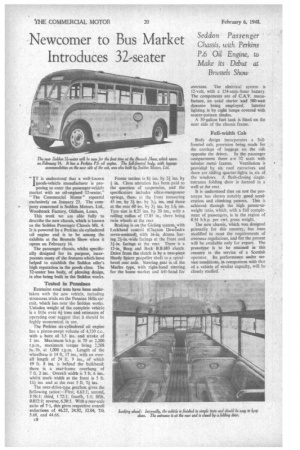 Page 44, 6th February 1948 —
Newcomer to Bus Market Introduces 32-seater
Close
Seddon Passenger Chassis, with Perkins P.6 Oil Engine, to Make its Debut at Brussels Show
IT is understood that a well-knows goods-veliticie manufacturer is proposing to enter the passenger-vehicle market with an ed-engined 32-seater," "-The Contimercial Motor" reported exchasinteiy on January 21 The company concerned is Seddon Motors. Ltd., Woodstock Fat-torY,ltharn, Lanes_ This week we are able fully to describe the new chassis, which is ii.1201%71. as the Seddon Passenger Chassis Ml. 4.
ifS penneord by a Perkins six-cyllinderesi ail metre and is to be amuse the exhibits at the Mussels Mow atm it opens ea Feltinnilt, 14.
inissenger deals, whist localeally designed for its purpose, incorporates many of the features which have helped to establish the high reputation is the ectods class. The 32-seater bus body, of pleas-ins design,, is alsss being built in the Seddon Works.
Tested in Pennines Extensive road bests have bees taken with with the new vehicle, including
strenuous trials on the Pennine Hills circuit, which ties. near the Seddon works. Unladen weight of the. completv vehicle is a little over 44 tons and estimates of operating cost suggest that it should be highly economical in use.
The Perkins six-cylindered oil engine has a piston-swept volume of 4,730 c.c., with a bore of 3.5 ins. and stroke of 5 ins. Maximuna la.h.p. is 70 at 2,200 r.n.m., tna,xinauna torque being 2,208in./lb, at 1,009 r.p.m. Length of the wheelbase is 14 IL IT ins., with an overall length of 24 ft. 9 ins", of which
ft. 8 ins, is behind the bulkhead; there is a rear-frame overhang of 7 ft, 2 ins. Overall width is 7 ft. 6 ins., whilst track width at the front is 5 ft. 111 ins and at the rear 5 ft, 7* ins.
The over7drive-type gearbox gives the following ratios:—First, 6,61:4 second, 3'56'f; third,. 1 72:1; fourth, 1:1; fifth, 0812:1; reverse, 6.38:1. With a rear-axle ratio of 7.1, this gives respective overall reductions of 46,27, 24.92; 12.04, 7.0-, 5.68, and 44.66.
cS
Frame s-edion is 8* ins. by 2i ins. by Cli(mkl: attention has been paid to the question of suspension, and the specificatlian includes silico-mungartese wings, rhos, at the front measuring 45 ins. by 3.i ins, by 3Ains. and those at the: rear 60 ins, by 3* ins, by 5* ins. Tyre size is 625 ins. by 20 ins., with a aistJis radius of 17.85 in., there being. twin whacks it the rear, braking is ea the Gifting: system,. with Lockheed .ionstrol (Clayton Delandre ierve-assissed),, with 1.6-in, drums having. 2*-is.-sille facings at -the front and *is.. facings at the rear; 'There is a Mirk Borg and Beck B.B.683 crutch Drive fron the clutch is by a two-piece Hai* Spicer propeller shaft to a spiralbevel rear axle. Steering gear is of. the Marks tyre" with right-hand steering, fee the benne market and left-hand. for
overseas. The electrical system is 12-volt, with a 154-amp.-hour battery. The components are of C.A.V. manufacture, an axial starter and 300-wart dynamo being employed.. Interior lighting is by eight lamps covered with saucer-pattern shades.
A 30-gallon fuel tank is fitted on the near side of the chassis frame.
Full-width Cab
Body design incorporates a fullfronted cah, provision being made for the carriage of luggage on the side opposite the driver. In the passenger compartment there a-e. 32 seats with tubular metal frames. Ventilation is provided by six roof extractors and there are sliding quarter-lights in, six of the windows. A flush-closing singleentrance folding door is located in a well at the rear.
It is understood that on. test the prototype has shown notably good acceleration and climbing powers. This is achieved through the high. power-toweight ratio, which, with a full complement of passengers, is in the region of 0154 h.h.p. per cwt. gross weight.
The new chassis, which was. designed primarily for this country, has been modified to meet the requirements of overseas regulations, and for the present will he available only for e-xport. The prototype is to be retained inthis country in the service. of a Scottish operator. Its performance under service conditions, in comparison. with that of a. vehicle of similar capacity, will be closely studied.