SPECIALlairl MAN SPORT
6th February 1948
Page 40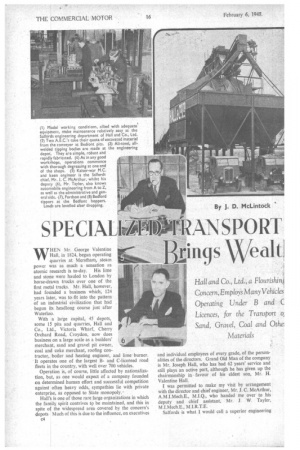 Page 41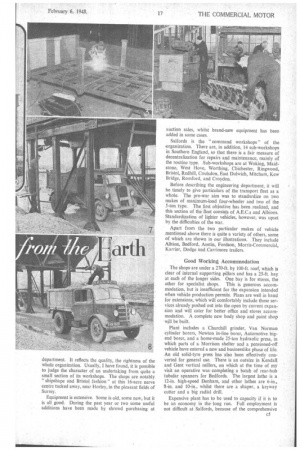 Page 42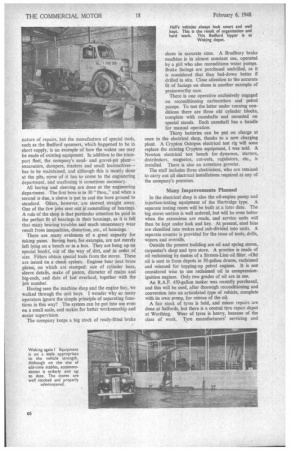 Page 43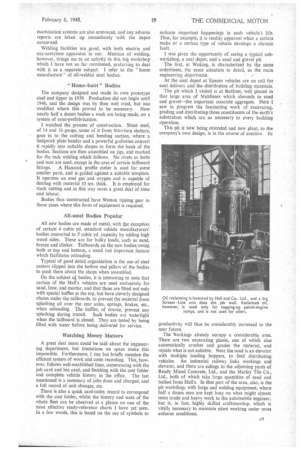 Page 40, 6th February 1948 —
SPECIALlairl MAN SPORT
Close
rin9s edit.
Hall and Co., Ltd., a Flourishin4 Concern, Employs Many Vehicles Operating Under B and C Licences, for the Transport 0, Sand, Gravel, Coal and °the
Materials
WHEN Mr. George Valentine Hall, in 1824, began operating quarries at Merstham, steam power was as much a sensation as atomic research is to-day. His lime and stone were hauled to London by horse-drawn trucks over one of the first metal tracks. Mr. Hall, however, had founded a business which, 124 years later, was to ,fit into the pattern of an industrial civilization that had begun its headlong course just after Waterloo.
With a large capital, 45 depots, some 15 pits and quarries, Hall and Co., Ltd., Victoria Wharf, Cherry Orchard Road, Croydon, now does business on a large scale as a builders' merchant, sand and gravel pit owner, coal and coke merchant, roofing contractor, boiler and heating engineer, and lime burner.
It operates one of the largest Band C-licensed road fleets in the country, with well over 700 vehicles.
Operation is, of course, little affected by nationalization, but, as one would expect of a company founded on determined human effort and successful competition against often heavy odds, sympathies lie with private enterprise, as opposed to State monopoly.
Hall's is one of those rare large organizations in which the family spirit contrives to be maintained, and this in spite of the widespread area covered by the concern's depots Much of this is due to the influence, on executives c4
and individual employees of every grade, of the personalities of the directors. Grand Old Man of the company is Mr. Joseph Hall, who has had 62 years' service and still plays an active part, although he has given up the chairmanship in favour of his eldest son, Mr. H. Valentine Hall.
I was permitted to make my visit by arrangement with the director and chief engineer, Mr. J. C. McArthur, A.M.I.Mech.E., M.I.Q., who handed me over to his deputy and chief assistant, Mr. J. W. Tayler, M.I.Mech.E., M.I.R.T.E.
Salfords is what I would call a superior engineering
department. It reflects the quality, the rightness of the whole organization. Usually, I have found, it is possible to judge the character of an undertaking from quite a small section of its workshops. The shops are notably. "shipshape and Bristol fashion" at this 16-acre nerve centre tucked away, near Honey, in the pleasant fields of Surrey.
Equipment is extensive. Some is old, some new, but it is all good. During the past year or two some useful additions have been made by shrewd purchasing at auction sales, whilst brand-new equipment has been added in some cases.
Salfords is the "command workshops" of the .organization. There are, in addition, 14 sub-workshops in Southern England, so that there is a fair measure of decentralization for repairs and maintenance, mainly of the routine type. Sub-workshops are at Woking, Maidstone, West Hove, Worthing, Chichester, Ringwood, Bristol, Redhill, Coulsdon, East Dulwich, Mitcham, Kew Bridge, Romford, and Croydon.
Before describing the engineering department, it will be timely to give particulars of the transport fleet as a • whole. The pre-war aim was to standardize on two makes of maximum-load four-wheeler and two of the 5-ton type.. The first objective has been realized, and this section of the fleet consists of A.E.C.s and Albions. Standardization of lighter vehicles, however, was upset by the difficulties of the war.
Apart from the two particular makes of vehicle mentioned above there is quite a variety of others, some of which are shown in our illustrations. They include Albion, Bedford, Austin, Fordson, Morris-Commercial, Karrier, Dodge and.Carrimore trailers.
Good Working Accommodation The shops are under a 270-ft. by 100-ft. roof, which is clear of internal supporting pillars and has a 25-ft. bay at each of the longer sides. One bay is for stores, the other for specialist shops. This is generous accomModation, but is insufficient for the expansion intended when vehicle production permits. Flans are well in hand for extensions, which will comfortably include those services already pushed out into the open by current expansion and will cater for better office and .stores accommodation. A complete new body shop and paint shop wjll be built.
Plant includes a 'Churchill grinder, Van Norman cylinder borers, Newton in-line borer, Automotive bigend borer, and a home-made 25-ton hydraulic press, in which parts of a Morrison shelter and a pensioned-off vehicle have entered a new and businesslike phase of life. An old solid-tyre press has also been effectively converted for general use. There is an outsize in Kendall and Gent vertical millers, on which at the time of my visit an operative wascompleting a batch of rear-hub tubular spanners for Bedfords. The largest lathe is a 12-in. high-speed Denham, and other lathes are 6-in., 13-in. and 10-in., whilst there are a shaper, a keyway cutter and a big radial drill.
Expensive plant has to be used to capacity if it is to be an economy in the long run. Full employment is not difficult at Salfords, because of the comprehensive c5 nature of repairs, but the manufacture of special tools, such as the Bedford spanners, which happened to be in short supply, is an example of how the widest use may be made of existing equipment. In addition to the transport fleet, the company's sandand gravel-pit plant— excavators, dumpers, tractors and small locomotives— has to be maintained, and although this is mostly done at the pits, some of it has to come to the engineering department, and machining is sometimes necessary.
All boring and sleeving are done at the engineering department. The first bore is to 30 "thou.," and when a second is due, a sleeve is put in and the bore ground to standard. Oilers, however, are sleeved straight away. One of the few jobs sent out is remetalling of bearings. A rule of the shop is that particular attention be paid to the perfect fit of bearings in their housings, as it is felt that many bearing troubles and much unnecessary wear result from inequalities, distortion, etc., of housings.
There are many evidences of a great rapacity for taking pains. Boring bars, for.example, are not merely left lying on a bench or in a box. They are hung up on special hooks, out of the way of dirt, and in order of size. Fitters obtain special tools from the stores. These are issued on a check system. Engines bear neat brass plates, on which are stamped: size of cylinder bore, sleeve details, make of piston, diameter of mains and big-ends, and date of last overhaul, together with the job number.
Having seen the machine shop and the engine bay, we walked through the unit bays. I wonder why so many operators ignore the simple principle of separating functions in this way? The system can be put into use even On a small scale, and makes for better workmanship and easier supervision.
The company keeps a big stock of ready-fitted brake shoes in accurate sizes. A Bradbury brake machine is in almost constant use, operated by a girl who also reconditions water pumps. Brake facings are purchased undrilled, as it is considered that they bed-down better if drilled in situ. Close attention to the accurate fit of facings on shoes is another example of praiseworthy care.
There is one operative exclusively engaged on reconditioning carburetters and petrol pumps. To test the latter under running conditions there are three old cylinder blocks, complete with camshafts and mounted on special stands. Each camshaft has a handle for manual operation.
Thirty batteries can be put on charge at once in the electrical shop, thanks to a new charging plant. A Crypton Octopus electrical test rig will soon replace the existing Crypton equipment, I was told. A Newton electrical test bench for dynamos, starters, distributors, magnetos, cut-outs, regulators, etc., is installed. There is also an armature growler.
The staff includes three electricians, who are retained to carry out all electrical installations required at any of the company's premises.
Many Improvements Planned In the electrical shop is also the oil-engine pump and injection-testing equipment of the Hartridge type. A separate testing room will be built at a later date. The big stores section is well ordered, but will be even better when the extensions are made, and service units will then be kept under lock and key. At present, steel bins are classified into makes and sub-divided into units. A separate counter is provided for the issue of tools, drills, wipers and overalls.
Outside the present building are oil and spring stores, carpenter's shop and tyre store. A practice is made of oil reclaiming by means of a Stream-Line oil filter. Old oil is sent in from depots in 50-gallon drums, reclaimed and reissued for topping-up petrol engines. It is not considered wise to use reclaimed oil in compressionignition engines. Only two grades of oil are in use.
An R,A.F. 450-gallon tanker was recently purchased, and this will be used, after thorough reconditioning and conversion into an articulated type of vehicle, complete with its own pump, for reissue of the oil.
A fair stock of tyres is held, and minor repairs are done at Salfords, but there is a central tyre repair depot at Worthing. Wear of tyres is heavy, because of the class of work. Tyre manufacturers' servicing and examination systems are also embraced, and any adverse reports are taken up immediately with the depot concerned.
Welding facilities are good, with both electric and oxy-acetylene apparatus in use. Mention of welding, however, brings me to an activity in this big workshop which I have not so far mentioned, preferring to deal with it as a separate subject. I refer to the "home manufacture " of all-welded steel bodies.
" Honae-buiit" Bodies
The company designed and made its own prototype steel end tipper in 1939. Production did not begin until 1946, and the design was by then well tried, but was modified where this proved to be necessary Now nearly half a dozen bodies a week are being made, on a system of semi-prefabrication.
I watched the process of construction. Sheet steel, of 14 and 16 gauge, some of it from Morrison shelters, goes in to the cutting and bending section, where a Sedgwick plate bender and a powerful guillotine convert it rapidly into suitable shapes to form the basis of the bodies. Sections are then assembled on jigs, and marked for the tack welding which follows. No rivets or bolts and nuts are used, except in the case, of certain tailboard
fittings. A Hancock profile cutter is used for some smaller parts, and is guided against a suitable template. It operates on coal gas and oxygen and is capable of dealing with material 10 ins. thick. It is employed for stack cutting and in this way saves a great deal of time and labour.
Bodies thus constructed have Weston tipping gear in those cases where this form of equipment is required.
All-steel Bodies Popular All new bodies are made of metal, with tile exception of certain 4 cubic yd. standard vehicle manufacturers' bodies converted to 5 cubic yd. capacity by adding high wood sides. These are for bulky loads, such as sand, breeze and clinker. Tailboards on the new bodies swing both at top and bottom, a small but important feature which facilitates unloading.
Typical of good detail organization is the use of steel castors slipped into .the hollow end pillars of the bodies to push them about the shops when assembled.
On the subject o bodies, it is interesting to note that certain of the Hall's vehicles are used exclusively for sand, lime, and mortar, and that these are fitted not only with special baffles at the top, but have cleverly designed chutes under the tailboards. to prevent the material from splashing all over the rear axles, springs, brakes, etc., when unloading. The baffles, of course, prevent any splashing during transit. Such bodies are watertight when the tailboard is closed. They are tested by being filled with water before being delivered for service.
Watching Money Matters
A great deal more could be said about the engineering department, but limitations on space make this impossible. Furthermore, I can but briefly mention the efficient system of work and costs recording. This, however, follows well-established lines, commencing with the job card and bin card, and finishing with the cost folder and complete vehicle history in the office. The last mentioned is a summary of jobs done and charged, and a full record of unit changes, etc.
There is also a quick card-index record to correspond with the cost folder, whilst the history and state of the whole fleet can be observed at a glance on one of the most effective ready-reference charts I have yet seen. In a few words, this is based on the use of symbols to
indicate important happenings in each vehicle's life. Thus; for example, it is readily apparent when a certain make or a certain type of vehicle develops a chronic fault.
I was given the opportunity of seeing a typical subwerksh-op, a coal depot, and a sand and gravel pit.
The first, at Woking, is characterized by the same orderliness, the same attention to detail, as the main engineering department.
At the coal depot at Epsom vehicles are on call for coal delivery and the distribution of building materials.
The pit which I visited is at Bcdfont, well placed in that large area of Middlesex which abounds in sand and gravel—the important concrete aggregate. Here I saw in progress the fascinating work of excavating, grading and distributing. those constituents of the earth's substratum which are so necessary to every building operation.
This pit is now being extended and new plant, to the company's own design, is in the course of erection Its productivity will thus be considerably increased in the near future.
The Ivorkings already occupy a considerable area. There are two excavating plants, one of which also automatically crushes and grades the material, and rejects what is not suitable. Near thG road is an elevator with multiple loading hoppers, to feed distributing vehicles. An industrial railway links workings and elevator, and there are sidings to the adjoining yards of Ready Mixed Concrete, Ltd., and the Marley Tile Co., Ltd., both of which take large quantities of sand and ballast from Hall's. In that part of the area, also, is the pit workshop, with forge and welding equipment, where half a dozen men are kept busy on what might almost seem crude and heavy work to the automobile engineer, but is, in fact, highly skilled craftmanship, which is vitally necessary to maintain plant working under most arduous conditions.