LONDON BUSMEN'S CLAIMS: NEXT STEPS
6th February 1948
Page 31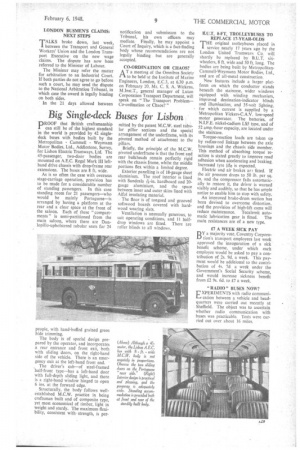 Page 31, 6th February 1948 —
LONDON BUSMEN'S CLAIMS: NEXT STEPS
Close
TALKS broke down, last week, I between the Transport and General Workers' Union and the London Transport Executive on the new wage claims. The dispute has now been referred to the Minister of Labour.
The Minister may refer the matter for arbitration to an Industrial Court. If both parties do not agree to go before such a court, he may send the dispute to the National Arbitration Tribunal, in which case the award is legally binding on both sides.
In the 21 days allowed between notification and submission to the Tribunal, his own officers may mediate. Finally, he may appoint a Court of Inquiry, which is a fact-finding body whose recommendations are not legally binding but are generally accepted.
CO-ORDINATION OR CHAOS? A T a meeting of the Omnibus Society to be held at the Institute of Marine Engineers, London, E.C.3, at 6.30 p.m. on February 20, Mr. C. S. A. Wickens, M.Inst.T., general manager of Luton Corporation Transport Department, will speak on "The Transport Problem— Co-ordination or Chaos?"
TROLLEYBUSES TO REPLACE 17-YEAR-OLDS
THE original trolleybuses placed in service nearly 17 years ago by the London United Tramways Co. will shortly be replaced by B.U.T. sixwheelers, 8 ft. wide and 30 ft. long. The bodies are being built by MetropolitanCammell-Weymann Motor Bodies, Ltd., and are of all-metal construction.
New features include a larger platform on which the conductor stands beneath the staircase, wider windows equipped with winding mechanism, improved destination-indicator blinds and illumination, and 35-volt fighting, for which current is supplied by a Metropolitan Vickers-C.A.V. low-speed motor generator. The batteries, of N.I.F.E. nickel-cadium LS5 type, and of 52 amp.-hour capacity, are located under the staircase.
Torque-reaction loads are taken up by radius-rod linkage between the axle housings and the chassis side member. This method of absorbing torque reaction is stated greatly to improve road adhesion when accelerating and braking. Increased tyre life is expected.
Electric and air brakes an fitted. If the air pressure drops to 50 lb. per sq. in. and the compressor fails automatically to restore it, the driver is warned visibly and audibly, so that he has ample notice to enable him to stop with safety.
An improved brake-drum section has been devised to overcome distortion, and the provision of high-lift cams will reduce maintenance. Tecalemit auto matic lubrication gear is fitted. The main resistances are of a new type.
£7 A WEEK SICK PAY
BY a majority vote, Coventry Corporation's transport employees last week approved the inauguration of a sick benefit scheme, under which each employee would be asked to pay a contribution of 2s. 9d. a week. This payment would be additional to the contribution of 4s. 7d. a week under the Government's Social Security scheme, and would increase sickness benefit from £2 9s. 6d. to £7 a week.
" RADIO " BUSES NOW?
EXPERINIENTS with radio communication between a vehicle and headquarters were carried out recently at Sheffield. The object was to ascertain whether radio communication with buses was practicable. Tests were carried out over about 16 miles.