Big Single-deck
6th February 1948
Page 31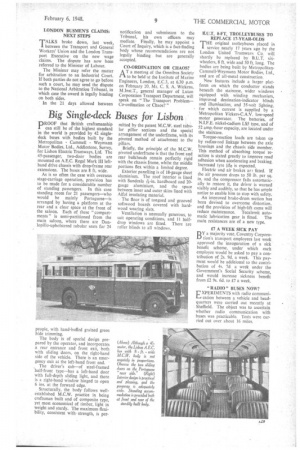 Page 31, 6th February 1948 —
Big Single-deck
Close
Buses for Lisbon PROOF that British craftsmanship can still be of the highest standard in the world is provided by 42 singledeck buses with bodies built by the Metropolitan Cammell Weymann Motor Bodies, Ltd., Addlestone, Surrey, for Lisbon Electric Tramways, Ltd. The 45-passenger, two-door bodies are mounted on A.E.C. Regal Mark III lef thand drive chassis with drop-frame rear extensions. The buses are 8 ft. wide.
As is so often the case with overseas stage-carriage operation, provision has to be made for a considerable number of standing passengers. In this case standing room for 21 passengers—who would be mainly Portuguese—is arranged by having a platform at the rear and a clear space at the front of the saloon. Each of these " compartments " is semi-partitioned from the main saloon, where there are Dunlopillo-upholstered tubular seats for 24 people, with hand-buffed grained green hide trimming.
The body is of special design prepared by the operator, and incorporates a rear entrance and front exit, both with sliding *doors, on the right-hand side of the vehicle. There is an emergency exit at the left-hand front end. The driver's cab—of steel-framed 4half-front type—has a left-hand door with full-depth sliding light, and there is a right-hand window hinged to open 6 ins, at the forward edge.
Structurally, the body follows wellestablished M.C.W. practice in being craftsman built and of composite type, yet most economical of timber, light in weight and sturdy.. The maximum flexibility, consistent with• strength, is per
mined by the patent M.C.W. steel tubular pillar sections and the special arrangement of the imderframe, with its pivoted method of attachment to the pillars.
Briefly, the principle of the M.C.W. pivoted underframe is that the front and rear bulkheads remain perfectly rigid with the chassis frame, whilst the middle portions flex within a limited degree.
Exterior panelling is of 18-gauge sheet aluminium. The roof interior is lined with Sundeala 16-in. hardboard and 20gauge aluminium, and the space between inner and outer skins lined with Alfol insulating material.
. The floor is of tongued and grooved softwood boards covered with hardwood wearing slats.
Ventilation is unusually generous, to suit operating conditions, and 11 half' drop windows are fitted. There are roller blinds to all windows.