INCREASED OVERALL LENGTHS FOR P.S.V.s
6th February 1948
Page 30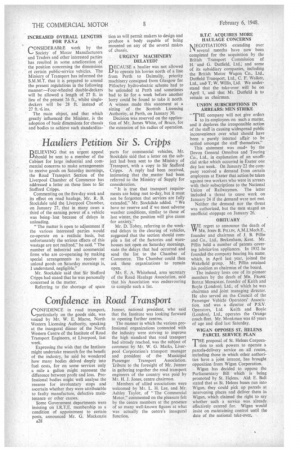 Page 30, 6th February 1948 —
INCREASED OVERALL LENGTHS FOR P.S.V.s
Close
rIONSIDERABLE work by the %-.0 Society of Motor Manufacturers and Traders and other interested parties has resulted in some amelioration of the position concerning the dimensions ot certain public-service vehicles. The Ministry of Transport has informed the S.M.M.T. that it is prepared to amend the present regulations in the following manner—Four-wheeled double-deckers will be allowed a length of 27 ft. in lieu of the present 26 ft., whilst singledeckers will be 28 ft. instead of 27 ft..6, ins.
The main object, and that which greatly influenced the Minister, is the adoption of basic dimensions for chassis and bodies to achieve such standardiza-.
tion as will permit makers to design and produce a body capable of being mounted on any of the several makes of chassis.
URGENT MACHINERY DELAYED?
BECAUSE a haulier was not allowed to operate his lorries north of a line from Perth to Dalmally, priority machinery consigned from Glasgow for Pitlochry hydro-electric scheme had to be unloaded at Perth and sometimes had to lie for a week before another lorry could be found to take it north. A witness made this statement at a sitting of the Scottish Licensing Authority, at Perth, on January 30.
Decision was reserved on the application of Mr. James White, of Braco, for the extension of his radius of operation. B.T.C. ACQUIRES MORE • HAULAGE CONCERNS
MEGOTIATIONS extending over 11 several months have now been completed for the acquisition by the British Transport Commission of H. and G. Dutfield, Ltd., and some of its subsidiary companies, including the British Motor Wagon Co., Ltd., Duffield Transport, Ltd., C. F. Walker, Ltd., and T. W. Willis, Ltd. We understand that the take-over will be on April 1, and that Mr. Duffield is to remain as chairman.
UNION SUBSCRIPTIONS IN ARREARS: MEN STRIKE
"THE company will not give orders
1 to its employees on such a matter, and it deplores the irresponsible action of the staff in causing widespread public inconvenience over what should have been a purely internal affair to be settled amongst the staff themselves."
This statement was ma& by the Devon General Omnibus and Touring • Co., Ltd., in explanation of an unofficial strike which occurred in Exeter one day last week. On January 22 the company received a demand from certain employees at Exeter that action be taken against two workers who were in arrears with their subscriptions to the National Union of Railwaymen. The letter included a threat to cease work on January 24 if the demand were not met.
Neither the demand nor the threat was authorized, but the men staged an unofficial stoppage on January 26.
OBITUARY
WE regret to announce the death of WV MR. JOHN B. PILL1N, A.M.I.Mech.E., founder and chairman of J. B. Pillin and Co., Ltd., Beckenham, Kent. Mr. Pillin held a number of patents covering lubrication appliances. In 1932 he founded -the company bearing his name. which, in April last year, joined the Wakefield group. Mr. Pillin retained his position as chairman of the board. The industry loses one of its pioneer members by the death of MR. FRANK BOYLE MONKMAN, founder of Keith and Boyle (London), Ltd., of which he was chairman and joint managing director. He also served on diet Council of the Passenger Vehicle Operators' Association, and was a director of P.S.V. Operators, Ltd. Keith and Boyle (London), Ltd., operates the Orange coach fleet. Mr. Monkman was 65 years of age and died last Saturday.
WIGAN OPPOSES ST. HELENS PARCEL SERVICE PLAN THE proposal of St. Helens Corporalion to seek powers to operate a parcels-delivery service on all routes, including those in which other authorities have a joint interest, has brought opposition from Wigan Corporation.
Wigan has decided to oppose the Parliamentary Bill which is being promoted by St. Helens. Ald. E. Ball stated that as St. Helens buses run into Wigan, they could pick up parcels at intervening places and deliver them in Wigan, which claimed the right to say whether such a service was already. effectively catered for. Wigan would insist on maintaining control until the date of the national take-over,