Hauliers Petition Sir S. Cripps B ELIEVING that an urgent appeal.
6th February 1948
Page 30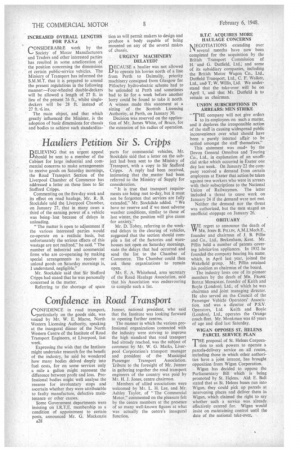 Page 30, 6th February 1948 —
Hauliers Petition Sir S. Cripps B ELIEVING that an urgent appeal.
Close
should be sent to a member of the Cabinet for large industrial and commercial concerns to make arrangements to receive goods on Saturday mornings, the Road Transpert Section of the Liverpool Chamber of Commerce has addressed a letter on these lines to Sir Stafford Cripps.
Commenting on the five-day week and its effect on road haulage, Mr. R. B. Stockdale told the Liverpool Chamber, on January 27, that in many cases a third of the earning power of a vehicle was being, lost because of delays in unloading.
"The matter is open to adjustment if the various interested parties would co-operate on a realistic basis, but unfortunately the serious effects of this wastage are not realized," he said, "The number of industrial and commercial firms who are co-operating by making special arrangements to receive or unload goods on Saturday mornings is, I understand, negligible."
Mr. Stockdale said that Sir Stafford Cripps had stated that he was personally concerned in the matter.
Referring to the shortage of spare parts for commercial vehicles, Mr. Stockdale said that a letter on the subject had been sent to the Ministry of Transport, with a copy to Sir Stafford Cripps. A reply had been received, intimating that the ,matter had been referred to the Ministry of Supply for consideration.
"It is true that transport requirements are being met to-day, but it must not be forgotten that services are fully extended," Mr. Stockdale added. "We have no reserve and if we meet adverse weather conditions, similar to those of last winter, the position will give cause for anxiety."
Mr. D. Tobey, referring to the weekend delays in the clearing of vehicles, suggested that the section should compile a list of the factories and warehouses not open on Saturday mornings, state the delays that had occurred and send the list to the Chamber of Commerce. The Chamber could then ask these organizations to remain open.
Mr. E. A. Whitehead, area secretary of the Road Haulage Association, said that his Association was endeavouring to compile such a list.