Confidence in
6th February 1948
Page 30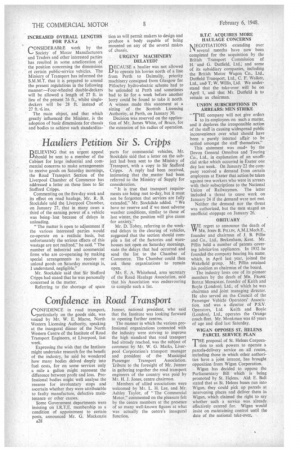 Page 30, 6th February 1948 —
Confidence in
Close
Road Transport CONFIDENCE in road transport, particularly on the goods side, was voiced by Mr. W. E. Macve, North Western Licensing Authority, speaking at the inaugural dinner of the North Western Centre of the Institute of Road Transport Engineers, at Liverpool, last week.
Expressing the wish that the Institute might undertake research for the benefit of the industry, he said he wondered how many bodies delved deeply into fuel costs, for on some services only a mile a gallon might represent the difference between profit and loss. Professional bodies might well analyse the reasons for involuntary stops and ascertain whether they were attributable to faulty manufacture, defective maintenance or other causes.
Some Government departments were insisting on I.R.T.E. membership as a condition of appointment to certain posts, announced Mr. G. Mackenzie A28 Junner, national president, who said that the Institute was looking forward to opening further centres.
The manner in which the various professional organizations connected with the industry were striving to improve the high standard that road transport had already reached, was the subject of comment by Mr. W. G. Marks, Liverpool Corporation's transport manager and president of the Municipal Passenger Transport Association. Tribute to the foresight of Mr. Junner in gathering together the road transport engineers of the country was paid by Mr. H. I. Jones, centre chairman.
Members of allied associations were welcomed by Mr. L. H. Lee, and Mr. Ashley TaylOr, of "The Commercial Motor," commented on the pleasure felt by the centre members at the presence of so many well-known figures at what was actually the centre's inaugural function.