BUS WAGE CLAIMS. FURTHER INQUIRY
6th February 1948
Page 29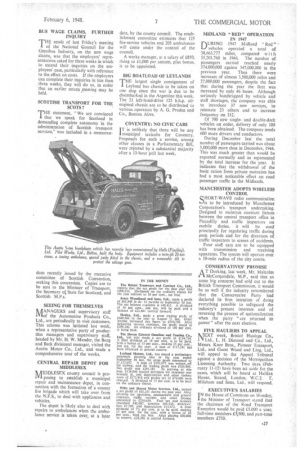 Page 29, 6th February 1948 —
BUS WAGE CLAIMS. FURTHER INQUIRY
Close
THE result of last Friday's meeting of the National council for the Omnibus Industry, on the new wage claims, was that the employers' representatives asked for three weeks in which to extend their inquiries on the employees' ease, particularly with reference to the effect on costs. If the employers can complete their inquiries in less than three weeks, they will do so, in order that an earlier return meeting may be held.
SCOTTISH TRANSPORT FOR THE SCOTS?
THE statement, "We are convinced that we speak for Scotland in demanding complete autonomy in the administration of Scottish transport services," was included in a memoran dum recently issued by the executive committee of• Scottish Convention, seeking this concession. Copies are to be sent to the Minister of Transport, the Secretary ot State for Scotland, and Scottish M.P.s.
SEEING FOR THEMSELVES MANAGERS and supervisory staff alof the Automotive Products Co., Ltd., are periodically to visit customers. This scheme was initiated last week, when a representative party of producthan managers and supervisory staff, headed by Mr. H. W. Mander, the Borg and Beck divisional manager, visited the Austin Motor Co., Ltd., and made a comprehensive tour of the works.
CENTRAL REPAIR DEPOT FOR MIDDLESEX AIDDLESF.X county council is proIVI posing to establish a municipal repair and maintenance depot, in connection with the formation of a county fire brigade which will take over from the N.F.S., to deal with appliances and vehicles.
The depot is likely also to deal with repairs to ambulances when the ambulance service is taken over, at a later date, by the county council. The establishment committee estimates that 125 fire-service vehicles and 203 ambulances will come under the control of the council.
A works manager, at a salary of £850, rising to £1,000 per annum, plus bonus, is to be appointed.
BIG BOATLOAD OF LEYLANDS
THE largest single consignment of
Leyland bus chassis to be taken on one ship since the war is due to be disembarked in the Argentine this week. The 21 left-hand-drive 125 b.h.p. oilengined chassis are to be distributed to various operators by A. G. Pruden and Co., Buenos Aires.
COVENTRY: NO CIVIC CABS I T is unlikely that there will be any municipal taxicabs for Coventry. Proposals for such a service, among other clauses in a Parliamentary Bill, were rejected by a substantial majority after a 13-hour poll last week. MIDLAND " RED " OPERATION IN 1947
DuR1NG 1947 Midland " Red " ' vehicles operated a total of 58,663,777 miles, compared with 55,201,760 in 1946. The number of passengers carried reached nearly 374,000,000 against 347,000,000 in the
previous year. Thus there were increases of almost 3,500,000 miles and 27,000,000 passengers, despite the fact that during the year the fleet was increased by only 46 buses. Although seriously handicapped by vehicle and staff shortages, the company was able to introduce 37 new services, to reinstate 23 others and to increase frequency on 312.
Of 700 new singleand double-deck vehicles on order, delivery of only 100 has been obtained. The company needs 600 more drivers and conductors.
During December last the total number of passengers carried was about 5,000,000 more than in December, 1946.
This was much greater than would be expected .normally and as represented by the total increase for the year. It indicates that the withdrawal of the basic ration from private motorists has had a most noticeable effect on road passenger traffic in the Midlands.
MANCHESTER ADOPTS WIRELESS CONTROL
SHORT-WAVE radio communication is to be introduced by Manchester Corporation's transport undertaking. Designed to maintain constant liaison between the central transport office in Piccadilly and traffic inspectors on mobile duties, it will be used principally for regulating traffic during peak periods and for the diversion of traffic inspectors to scenes of accidents.
Four staff cars are to be equipped with transmission and receiving apparatus. The system will operate over a 10-mile radius of the city centre.
CONSERVATIVES' PROMISE
A T Dorking, last week, Mr. Malcolm
McCorquodale, M.P., said that as some big concerns had sold out to the British Transport Commission, it would be as well if the industry remembered that the Conservative Party had declared its firm intention of doing everything possible to safeguard the industry's present interests and of reversing the process of nationalization when the party "are returned WI power" after the next election.
FIVE HAULIERS TO APPEAL
NEXT week, Bristol Haulage Co., Ltd., L. H. Dimond and Co., Ltd., Messrs. Knee Bros., Pioneer Transport, Ltd., and Guest Wood and Ling, Ltd., will appeal to the Appeal Tribunal against a decision of the Metropolitan Licensing Authority. Two days (February 11-12.1 have been set aside for the cases, which will be heard at Halifax House, Strand, London, W.C.2. T. ,Mileham and Sons, Ltd., will respond.
EXECUTIVE'S SALARIES I N the House of Commons on Monday,
the Minister of Transport stated that the chairman of the Road Transport Executive would be paid £5,000 a year, full-time members £3,500, and part-time members £750.