New system in breach of the regulations
6th December 1974
Page 24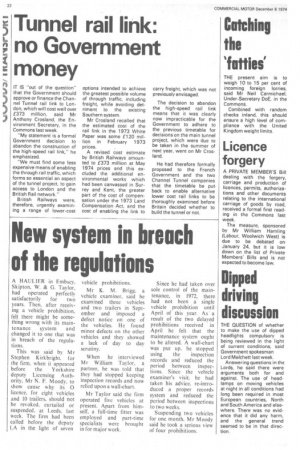 Page 24, 6th December 1974 —
New system in breach of the regulations
Close
A HAULIER in Embsey, Skipton, W. & G. Taylor, had operated perfectly
satisfactorily for two years. Then, after receiving a vehicle prohibition, felt there might be something wrong with its maintenance system and changed it to one that was in breach of the regulations.
This was said by Mr Stephen Kirkbright, for the firm, when it appeared before the Yorkshire deputy Licensing Authority, Mr N. F. Moody, to show cause why its 0 licence, for eight vehicles and 10 trailers, should not be revoked, curtailed or suspended, at Leeds, last week. The firm had been called before the deputy LA in the light of seven vehicle prohibitions.
Mr K. M. Brigg. a vehicle examiner, said he examined three vehicles and two trailers in September and imposed a defect notice on one of the vehicles. He found minor defects on the other vehicles and they showed a lack of day to day scrutiny.
When he interviewed Mr William Taylor, a partner, he was told that they had stopped keeping inspection records and now relied upon a wall-chart.
Mr Taylor said the firm operated five vehicles at present. Apart from himself, a full-time fitter was employed and part-time specialists were brought in for major work. Since he had taken over sole control of the maintenance, in 1972, there had not been a single vehicle prohibition until April of this year. As a result of the two delayed prohibitions received in April he felt that the maintenance system ought to be altered. A wall-chart was put up, he stopped using the inspection records and reduced the period between inspections, Since the vehicle examiner's visit, he had taken his advice, re-introduced a proper records system and reduced the period between inspections to two weeks.
Suspending two vehicles for one month, Mr Moody said he took a serious view of four prohibitions.