GAS 'CONVERSIONS.
6th December 1917
Page 28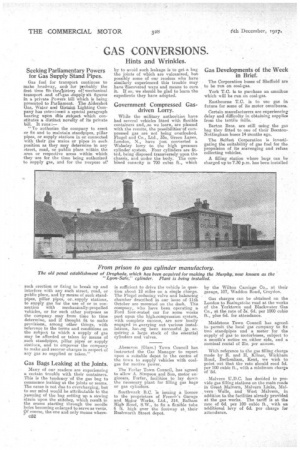 Page 28, 6th December 1917 —
GAS 'CONVERSIONS.
Close
Hints and Wrinkles.
Seeking Parliamentary Powers for Gas Supply Stand Pipes.
Gas fuel for transport continues to make headway, and, for probably the first time Mt thaftister. of? mechanical transport .and, oi'gas ,supply sit figures in a private Powers bill which is being presented to Parliament. The Aldershot Gas, Water wad nista:let Lighting Company bras introdnced a special paragraph bearing up-an this subject which constitutes a distinct novelty of its private bill. It runs:— " To authorise the company to erect or fix and to maintain standpipes, pillar pipes, or supply stations in or connected with their gas mains or pipes in such position RS they may determine in any street, road, or .public place within the area or respective areas within which they are for the time being authorized to supply gas, and for the Purpose ofl
such erection or fixing to break up and interfere with any such street, road, or public place, and by means of such standpipes, pillar pipes, or supply stations, to supply gas for the use of or in connection with mechanically-propelled vehicles, or for such other purposes as the company may from time to time determine, and if thought fit to make provisions,. among other things, with reference to the terms and conditions on the subject to which a supply of gas may be afforded or taken by means of such standpipes, pillar pipes or supply stations, and to empower the company to make and recover charges in respect of any gas so supplied or taken." •
Gas Bags Leaking at the Joints.
Many of our readers are experiencing a certain trouble with their containers. This is the tendency of the gas bag to commence leaking at the joints or seams. The cause is not due to overcharging, but to our mind would be attributable to the yawning nf the bag setting up a sawing strain upon the stitches, which result in the seams starting through the needle holes becoming enlarged to serve as vents. Of course, the one and only means where
C52 by to avoid such leakage is to get a bag the joints of which are vulcanized, bat possibly some of our readers who have similarly experienced this trouble may have Eiscovered ways and means to cure it. If so, we should be glad to learn the expedients they have adopted.
Government Compressed Gasdriven Lorry.
While the military authorities have had several vehicles fitted with flexible containers and,,so we learn, are pleased with the results, the possibilities of compressed gas are not being overlooked. Flugel and Co.' Ltd., 33a, Green Lanes, London, N., have just converted a Wolseley lorry to the high pressure cylinder system. Four cylinders are fitted, being disposed transversely upon the chassis, and under the body. The combined capacity is 700 cubic ft., which is sufficient to drive the vehicle in question about 18 miles on a single charge. The FL-eget reducing valve and balancing chamber described in our issue of -11th October are mounted on the dash. The company, who have been operating a Ford four-mated car for some weeks past upon the high,.compre_ssion system, with complete success, axe now busily engaged in tarrying ant yariou.s installations, ha... arg been successful iii quiring .a large stock of the essential cylinders and valves,
Aberavon (Glam.) Town Council has instructed the Gas Manager to report upon a suitable depot in the centre of the town to supply vehicles with coalgas for motive power.
The Forfar Town Council, has 'agreed to allow A. Simpson and Son, motor en gineers, Forfar, facilities to lay down the necessary plant for filling gas bags or gas cylinders. .
Southwark B.C. is issuing a licence to the proprietors of French's Garage and KoSor Works, Ltd., 314, Balham High Road, S.W., to fix a flexible tube 6 ft. high over the footway at their Rushworth Street depot.
Gas Developments of the Week in Brief.
The Corporation buses of Sheffield are to be run on coal-gas.
York T.C. is to purchase an omnibus which will be run on coal-gas.
Eastbourne T.C. is to use gas in future for sonic of its motor omnibuses.
Certain manufacturers are experiencing delay and difficulty in obtaining supplies from the textile mills.
Barton Bros. are still using the gas bag they fitted to one of their BeestonNottingham buses 14 months ago.
The Belfast Corporation is investigating the suitability of gas fuel for the propulsion of its scavenging and refuse collecting vehicles.
A filling station where bags can be charged up to 7.30 p.m. has been installed by the Wilton Carriage Co., at their garage, 107, Wadden Road, Croydon.
Gas charges. can be obtained on the London to Basingstoke road at the works of the. Yorktown and Blackwater :Gas Co., at the rate of 3s1 6d. per 1000 cubie ft., plus .6d. for attendance.
Maidstone Town Council has agreedto permit the local gas company to. fix two standpipes and a meter for, the supply of gas-to motorbuses, stibject to a month's notice on either side, and a nominal rental of 21s. per annum.
With reference to the gas tilling charge made by R. and II. Kilner, Wickham Road, Bedkenliam, Kent, we wish to point oat that the rate 'should read 5d. per 100 cubic ft., with a minimum charge of '8d.
. -Malvern LT.D,C. has decided to provide gas filling stations on the main roads in Groat Malvern, Malvern Links, Malvern Wells, and West Malvern, in addition to. the facilities already provided i at the gas works. The tariff s at the rate of fid. per 100 cubic ft., with an additional levy of 6d. per charge for attendance.