GAS SUPPLIES.
6th December 1917
Page 27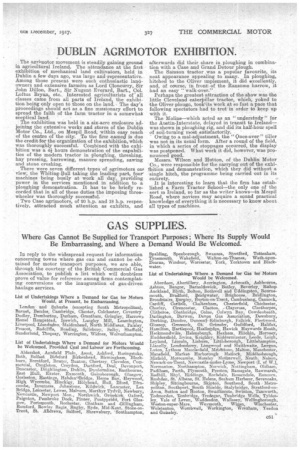 Page 27, 6th December 1917 —
GAS SUPPLIES.
Close
Where Gas Cannot Be Supplied for Transport Purposes ; Where Its Supply Would Be Embarrassing, and Where a Demand Would Be Welcomed.
In reply to the widespread request for information concerning towns where gas can and cannot be obtained for motor transport purposes, we are able, through the courtesy of the British Commercial Gas Association, to publish a list which will doubtless prove of Value for reference among firms contemplating conversions •or the inauguration of gas-driven haulage services.
List of Undertakings Where a Demand for Gas for Motors Would, at Present, be Embarrassing.
London and Suburbs (excepting South Metropolitan), Barnet, Beccles Cambridge, Chester, Colchester, Coventry Dudley, Dumbarton, Durham, Grantham, Gringley, HarrowpHemel Hempstead, Ipswich, Langley Milt, Leamington, Liverpool, Llandudno, -Maidenhead, North Middlesex, Paisley, Prescot, • Radcliffe, Reading, Salisbury, Selby, Sheffield, Sunderland, Tbrquay, Warrington, Widnes, Wolverhampton.
List of Undertakings Where a Demand for Motors Would be Welcomed, Provided Coal and Labour are Forthcoming.
Aldershot Annfield Plain, Ascot, Ashford, Basingstoke, Bath, Belfast Bideford Birkenhead, Birmingham, Blackburn, Brentfoid, Bristol,Buxton Chertzey. Clevedon, Commercial, Congleton, Croydon, Dartford, Deal, Devonport, Doncaster, Drighlington, Dublin, Dunfermline, Eastbourne, East Hull, Exeter. Exnumth, Gainsborough, Glasgow, Gorleston, El astings, Rebdei-OBridge, Herne Bay, -Heywood, Hig11. Wycombe, Hinckley, liblyhead, Hull, Ilford, Ilfracombe, Inverness, Johnstone, Kildwick, Lancaster, Lea Bridge, Leicester, Lewes Malvern, Merthyr Tycvit, Newbury, Newcastle, Newport Mon., Nortbwieh, Ormekirk, Oxford, Paignton, Pembroke Dock, Pinner, Pontypridd, Port Glasgow, Portsmouth, Rochester, Chatham and Oillingham, Roniford, Rowley Regis, 'Rugby, Ryde, Mid-Kent, Stoke-onTrent, St. Andrews, Salford, Shrewsbury, •Southampton,
Spalding, Spenborough, Swansea, StretfOrd, Tottenham, Tynemoutla. Wakefield, Walton-on-Thames, Wath-uponDearne, Windsor, Worcester, York, Yorktown and Blackwater.
List of Undertakings Wherea Demand for Gas for Motors Would be Welcomed.
Aberdeen, Abertillery. Accrington, Arbroath, Ashbourne, Ashton, Bangor, Barnoldswick, Batley, Beverley, Bishop Auckland, Blyth, Bolton, Bothwell and Uddingston, Bournemouth, Bradford, Bridgwater, Brighouse, Bridlington, Broadstairs Burstley, Burton-on-Trent, Cambuslang, Cannock, Cardiff, Carlisle, Cheltenham, Chesterfield, Chichester, ChorIey, Cirencester, Clacton, , Claycross, Cleethorpes, Clitheroe, Cbatbridge, Colne, Colwyn Bay, Cowdenbeath, Darlington, Darwen, Devon Gas Association, Dewsbury, Dorking, Dundee, Dunoon} -Edinburgh, Falkirk, Fleetwood, Glossop, Greenock, Gt. Grimsby, Guildford, Halifax, Hamilton, Hartlepool, Haslingden, Hawick Haywards Heath, Heckmondwike, '
Helensburgh, Hexham, 'Hitchin, Hornsev, Huddersfield, Irvine Keighley, Kidderminster, Leeds, Leigh', • Leyland, Lincoln, Lisburn, Littleborongh, Littlehampton, Llanelly, Londonderry, Longwood and Slaithwaite, Lurgan, Luton, Lytham Macclezfield, Mirkibtorre, Mahon Manchester, Mansfield, Market Harborough Matlock, Middlesbrough, Mirfield, Morecambe, Mossley Mothrkrwell, Neath, Nelson Newark-on-Trout, Newcastle-under-Lyme, Newport (T. of W.), Normanton, Northampton, Norwich, Nottingham, Oldham, Padiham, Perth, Plymouth, Preston, Ramsgate, Rawmarsh, Redhill, Rhyl, Ridding-s, Rochdale, Rossenclale, Runcorn, Rushden, St. Albans, St. Helens, Sealuan Harbour, Sevenoaks, Shipley, Sittingbourne, Skiptori, Southend, South Metropolitan, Southport, South Shields, Stalybridge, Stratford-onAvon, Sutton and Flooton, Swadlincote, Swinton, Tainworth, Todmorden, Tonbridge, Tredegar, Tunbridge Wells, TyldesIey, Tale of Leven, Wadclesdon, Wallasey, Wellingborough, Weston-super-Mare, Weymouth, Wigan, Winchester, Wolstanton, Wombwell, Workington, Vi`reihana, Yeadon and Cruiseley.
Tags
Locations
:
Llanelly
,
Wolstanton
,
York
,
Aberdeen
,
Dublin
,
Wigan
,
Chatham
,
Lancaster
,
Rochester
,
Yeadon
,
Worcester
,
Spenborough
,
Preston
,
Longwood
,
Southampton
,
Leeds
,
Blackwater
,
Yorktown
,
Perth
,
Sheffield
,
Wombwell
,
Weymouth
,
Slaithwaite
,
Leicester
,
Birmingham
,
Bath
,
Bradford
,
Halifax
,
Liverpool
,
Wolverhampton
,
Vi`reihana
,
Bristol
,
Sunderland
,
Tbrquay
,
Newport
,
Winchester
,
Plymouth
,
Oxford
,
Manchester
,
Exeter
,
Lisburn
,
Southport
,
Auckland
,
Thames
,
Littlehampton
,
Oillingham
,
Leyland
,
Salford
,
Hartlepool
,
Chester
,
Cambridge
,
Cardiff
,
Workington
,
Portsmouth
,
Norwich
,
Devonport
,
Wakefield
,
Glasgow
,
Littleborongh
,
Reading
,
Nottingham
,
London
,
Londonderry
,
Wath-uponDearne
,
Windsor
,
Cruiseley
,
Lincoln
,
Edinburgh
,
Durham
,
Newcastle