BATTERY MAINTENANCE.
6th December 1917
Page 16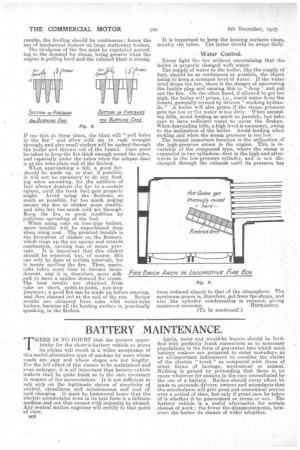 Page 16, 6th December 1917 —
BATTERY MAINTENANCE.
Close
THERE IS NO DOUBT that the present opportunity for the electric-battery vehicle to prove its claims will result in a wider acceptance of this useful alternative type of machine by users whose roads are easy and whose stages are not lengthy. For the full effect of this chance to be maintained and even enlarger, it is all important that battery-vehicle makers shall be quite frank as to the care necessary in respect of the accumulators. It is not sufficient to rely only on the legitimate claims of simplicity of control, cleanliness and noiselessness and cost of unit charging. It must be hammered home that the electric accumulator even in its best form is a delicate medium and one that cannot with impunity be abused. Any central station engineer will certify to that point of view.
au Again, users and would-be buyers should be fortified with perfectly frank statements as to necessary stipulations in the form of guarantee into which most battery makers are• prepared to enter nowadays as an all-Important inducement to consider the claims of the electric " truck '? as compared with those of other forms of haulage, mechanicaL or animal.' Nothing is gained by pretending that there ii no cause whatever for anxiety in the case necessitated bythe use of a battery. Rather .should every effort be made to persuade drivers, owners and attendants that the accumulator will give good and economical service over a period of time, but only if great care be taken of it whether it be guaranteed on terms or not. The battery vehicle is a useful alternative for certain classeS of weirk ; the fewer the disappointments, however, the better its chance of wider adoption.