Q believe the Distributive Trades Council has revised its educational certificate
6th August 1971
Page 70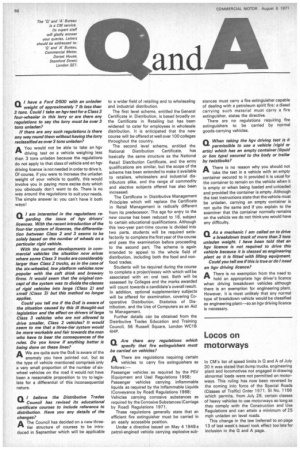 Page 70, 6th August 1971 —
Q believe the Distributive Trades Council has revised its educational certificate
Close
courses to include reference to distribution. Have you any details of the changes?
AThe Council has decided on a new threetier structure of courses to be introduced in September which will be applicable
to a wider field of retailing and to wholesaling and industrial distribution.
The first level scheme, entitled the General Certificate in Distribution, is based broadly on the Certificate in Retailing but has been widened to cater for employees in wholesale distribution. It is anticipated that the new course will be offered at well over 100 colleges throughout the country.
The second level scheme, entitled the National Distribution Certificate, has basically the same structure as the National Retail Distribution Certificate. and the entry qualifications are similar, but the scope of the scheme has been extended to make it available to retailers, wholesalers and industrial distributors alike, and the range of commodity and elective subjects offered has also been increased.
The Certificate in Distributive Management Principles which will replace the Certificate in Retail Management is radically different from its predecessor. The age for entry to the new course has been reduced to 18, subject to certain educational qualifications. Although this two-year part-time course is divided into two parts, students will be required satisfactorily to complete the first year of the course and pass the examination before proceeding to the second part. The scheme is again intended to appeal to the whole field of distribution, including both the food and nonfood trades.
Students will be required during the course to complete a project/essay with which will be associated with an oral test. Both will be assessed by Colleges and the marks awarded will count towards a candidate's overall result. In addition, optional supplementary subjects will be offered for examination, covering Cooperative Distribution, Statistics of Distribution, and the Use of Computers as an Aid to Management.
Further details can be obtained from the Distributive Trades Education and Training Council, 56 Russell Square, London WC1B 4HP.