New steps for North Sea Ferries
6th August 1971
Page 66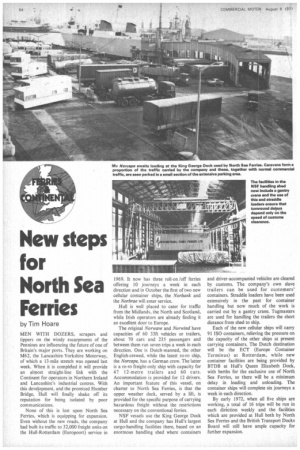 Page 66, 6th August 1971 —
New steps for North Sea Ferries
Close
Keywords :
Transport
,
Containerization
,
Roll-on/roll-off
,
Container Ship
,
Ferry
,
Intermodal Container
,
Europoort
,
Freight Rail Transport
,
Kingston Upon Hull
,
Intermodal Freight Transport
,
Ship Transport
by Tim Hoare MEN WITH DOZERS, scrapers and tippers on the windy escarpments of the Pennines are influencing the future of one of Britain's major ports. They are working on M62, the Lancashire-Yorkshire Motorway, of which a 13-mile stretch was opened last week. When it is compleled it will provide an almost straight-line link with the Continent for operators in Northern Ireland and Lancashire's industrial centres. With this development, and the promised Humber Bridge, *Hull will finally shake off its reputation for being isolated by poor communications.
None of this is lost upon North Sea Ferries, which is equipping for expansion. Even without the new roads, the company had built its traffic to 32,000 freight units on the Hull-Rotterdam (Europoort) service in 1969. It now has three roll-on /off ferries offering 10 journeys a week in each direction and in October the first of two new cellular container ships, the Norbank and the 1Vorbrae will enter service.
Hull is well placed to cater for traffic from the Midlands, the North and Scotland, while Irish operators are already finding it an excellent door to Europe.
The original Norwave and Norwind have capacities of 60 33ft vehicles or trailers, about 70 cars and 235 passengers and between them run seven trips a week in each direction. One is Dutch-manned, the other English-crewed, while the latest ro-ro ship, the Norcape, has a German crew. The latter is a ro-ro freight-only ship with capacity for 47 12-metre trailers and 60 cars. Accommodation is provided for 12 drivers. An important feature of this vessel, on charter to North Sea Ferries, is that the upper weather deck, served by a lift, is provided for the specific purpose of carrying hazardous freight without the restrictions necessary on the conventional ferries.
NSF vessels use the King George Dock at Hull and the company has Hull's largest cargo-handling facilities there, based on an enormous handling shed where containers and driver-accompanied vehicles are cleared by customs. The company's own slave trailers can be used for customers' containers. Straddle loaders have been used extensively in the past for container handling but now much of the work is carried out by a gantry crane. Tugmasters are used for handling the trailers the short distance from shed to ship.
Each of the new cellular ships will carry 91 ISO containers, relieving the pressure on the capacity of the other ships at present carrying containers. The Dutch destination will be the ECT (Europe Container Terminus) at Rotterdam, while new container facilities are being provided by BTDB at Hull's Queen Elizabeth Dock, with berths for the exclusive use of North Sea Ferries, so there will be a minimum delay in loading and unloading. The container ships will complete six journeys a week in each direction.
By early 1972, when all five ships are working, a total of 16 trips will be run in each direction weekly and the facilities which are provided at Hull both by North Sea Ferries and the British Transport Docks Board will still have ample capacity for further expansion.