topic
6th August 1971
Page 65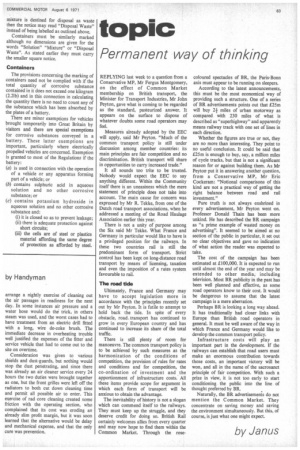 Page 65, 6th August 1971 —
topic
Close
Permanent way of thinking
REPLYING last week to a question from a Conservative MP, Mr Fergus Montgomery, on the effect of Common Market membership on British transport, the Minister for Transport Industries, Mr John Peyton, gave what is coming to be regarded as the standard, pasteurized answer. It appears on the surface to dispose of whatever doubts some road operators may feel.
Measures already adopted by the EEC will apply, said Mr Peyton. "Much of the common transport policy is still under discussion among member countries: its main principles are fair competition and no discrimination. British transport will share in opportunities to carry increased trade."
It all sounds too trite to be trusted. Nobody would expect the EEC to say anything different. Within the Community itself there is an uneasiness which the mere statement of principle does not take into account. The main cause for concern was expressed by Mr R. Tekke, from one of the Dutch road transport associations, when he addressed a meeting of the Road Haulage Association earlier this year.
There is not a unity of purpose among the Six said Mr Tekke. What France and Germany in particular would like to have is a privileged position for the railways. In these two countries rail is still the predominant form of transport. Strict control has been kept on long-distance road transport by means of licensing, taxation and even the imposition of a rates system favourable to rail.
The road tide Ultimately, France and Germany may have to accept legislation more in accordance with the principles recently set out by Mr Peyton. It is futile to attempt to hold back the tide. In spite of every obstacle, road. transport has continued to grow in every European country and has continued to increase its share of the total traffic.
There is still plenty of room for manoeuvre. The common transport policy is to be achieved by such measures as the harmonization of the conditions of competition, the provision of rules for rates and conditions and for competition, the co-ordination of investment and the apportionment of infrastructure costs. All these items provide scope for argument in which each form of transport will be anxious to obtain the advantage.
The inevitability of history is not a slogan which can commend itself to the railways. They must keep up the struggle, and they deserve credit for doing so. British Rail certainly welcomes allies from every quarter and may now hope to find them within the Common Market. Through the rose
coloured spectacles of BR, the Paris-Bonn axis must appear to be running on sleepers.
According to the latest announcements, this must be the most economical way of providing such a structure. One of a series of BR advertisements points out that £25m will buy 2+ miles of urban motorway as compared with 230 miles of what is described as "superhighway" and apparently means railway track with one set of tines in each direction.
Whether the figures are true or not, they are no more than interesting. They point to no useful conclusion. It could be said that £25m is enough to buy, say, a million miles of cycle tracks, but that is not a significant reason for or against building them. As Mr Peyton put it in answering another question, from a Conservative MP, Mr Eric Cockeram: "Notional comparisons of this kind are not a practical way of getting the right balance between road and rail investment."
Pure truth is not always enshrined in every advertisement, Mr Peyton went on Professor Donald Thain has been more unkind. He has described the BR campaign as "a prime example of wasted money on advertising". It seemed to be aimed at no section of the public in particular, it set out no clear objectives and gave no indication of what action the reader was expected to take.
The cost of the campaign has been estimated at £100,000. It is expected to run until almost the end of the year and may be extended to other media, including television. Most BR publicity in the past has been well planned and effective, as some road operators know to their cost. It would be dangerous to assume that the latest campaign is a mere aberration.
Perhaps BR is looking a long way ahead. It has traditionally had closer links with Europe than British road operators in general. It must be well aware of the way in which France and Germany would like to develop the common transport policy.
Infrastructure costs will play an important part in the development. If the railways can establish that road users must make an enormous contribution towards those costs, an important victory will be won, and all in the name of the sacrosanct principle of fair competition. With such a prize in view, it is not too early to start conditioning the public into the line of thought preferred by BR.
Naturally, the BR advertisements do not mention the Common Market. They concentrate on saving money and saving the environment simultaneously. But this, of course, is just what one might expect.
by Janus