bird's eye view btheHawk • Burning issues Annual meetings of
6th August 1971
Page 63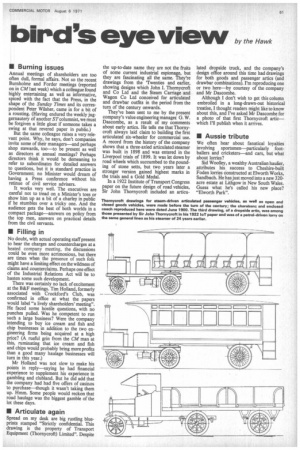 Page 63, 6th August 1971 —
bird's eye view btheHawk • Burning issues Annual meetings of
Close
shareholders are too often dull, formal affairs. Not so the recent Bumholme and Forder meetings (reported on in CM last week) which a colleague found highly entertaining as well as informative, spiced with the fact that the Press, in the shape of the Sunday Times and its correspondent Peter Wilsher, came in for a bit of a rousting. (Having endured the weekly juggernautery of another STcolumnist, we must be forgiven a little gloat if someone takes a swing at that revered paper in public.)
But the same colleague raises a very relevant point. Why, he says, don't companies invite some of their managers—and perhaps shop stewards, too to be present as well as directors at annual meetings? Perhaps directors think it would be demeaning to refer to subordinates for detailed answers to questions, but it is standard practice in Government; no Minister would dream of having a Press conference without his retinue of civil service advisers.
It works very well. The executives are careful not to tread on a Minister's toes or show him up as a bit of a charley in public if he stumbles over a tricky one. And the audience gets the best of both worlds in a compact package--answers on policy from the top men, answers on practical details from the civil servants.
• Filling in
No doubt, with actual operating staff present to hear the charges and countercharges at a heated company meeting. the discussions could be even more acrimonious, but there are times when the presence of such folk might have a limiting effect on the wildness of claims and counterclaims. Perhaps one effect of the Industrial Relations Act will be to hasten some such development.
There was certainly no lack of excitement at the B&F meetings. Tim Holland, formerly associated with Crockford's Club, was confirmed in office at what the papers would label "a lively shareholders' meeting". He faced some hostile questions, with no punches pulled. Was he competent to run such a large business? Were the company intending to buy ice cream and fish and chip businesses in addition to the two engineering firms being acquired at a high price? (A rueful grin from the CM man at this, ruminating that ice cream and fish and chips would probably bring more profits than a good many haulage businesses will turn in this year.)
Mr Holland was not slow to make his points in reply—saying he had financial experience to supplement his experience in gambling and clubland. But he did add that the company had had five offers of casinos to purchase—though it wasn't taking them up. Hmm. Some people would reckon that road haulage was the biggest gamble of the lot these days.
• Articulate again
Spread on my desk are big rustling blueprints stamped "Strictly confidential. This drawing is the property of Transport Equipment (Thornycroft) Limited". Despite the up-to-date name they are not the fruits of some current industrial espionage, but they are fascinating all the same. They're drawings from the 'Twenties and earlier, showing designs which John I. Thornycroft and Co Ltd and the Steam Carriage and Wagon Co Ltd conceived for articulated and drawbar outfits in the period from the turn of the century onwards.
They've been sent to me by the present company's value engineering manager G. W. Dascombe, as a result of my comments about early artics. He tells me that Thornycroft always laid claim to building the first articulated six-wheeler for commercial use. A record from the history of the company shows that a three-ax led articulated steamer was built in 1898 and was entered in the Liverpool trials of 1899. It was let down by road wheels which succumbed to the pounding of stone setts, but two years later a stronger version gained highest marks in the trials and a Gold Medal.
In a 1922 Institute of Transport Congress paper on the future design of road vehicles, Sir John Thornycroft included an articu
lated dropside truck, and the company's design office around this time had drawings for both goods and passenger attics (and drawbar combinations). I'm reproducing one or two here—by courtesy of the company and Mr Dascombe.
Although I don't wish to get this column embroiled in a long-drawn-out historical treatise, I thought readers might like to know about this, and I've asked Mr Dascombe for a photo of that first Thomycroft articwhich I'll publish when it arrives.
• Aussie tribute
We often hear about fanatical loyalties involving sportsmen—particularly footballers and cricketers—and cars, but what about lorries?
Sid Woolley, a wealthy Australian haulier, attributes his success to Cheshire-built Foden lorries constructed at Elworth Works, Sandbach. He has just moved into a new 320acre estate at Lithgow in New South Wales. Guess what he's called his new place? "Elworth Park".