The transport café a la Frantaise
6th August 1971
Page 62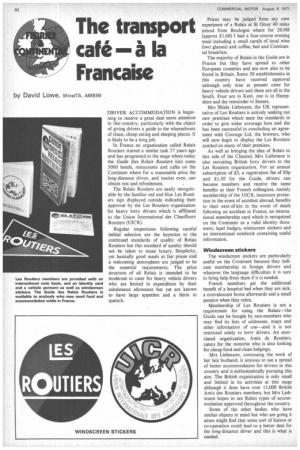 Page 62, 6th August 1971 —
The transport café a la Frantaise
Close
DRIVER ACCOMMODATION is beginning to receive a great deal more attention in this country, particularly with the object of giving drivers a guide to the whereabouts of clean, cheap eating and sleeping places. It is likely to be a long job.
In France an organization called Relais Routiers started a similar task 37 years ago and has progressed to the stage where,today the Guide Des Relais Ratifiers lists some 5000 hotels, restaurants and cafés on the Continent where for a reasonable price the long-distance driver, and tourist even, can obtain rest and refreshment.
The Relais Routiers are easily recognizable by the familiar red and blue Les Routiers sign displayed outside indicating their approval by the Les Routiers organization for heavy lorry drivers which is affiliated to the Union International des Chauffeurs Routiers (UICR).
Regular inspections following careful intitial selection are the keynotes to the continued standards of quality of Relais Routiers but this standard of quality should not be taken to mean luxury. Simplicity, yet basically good meals at fair prices and a welcoming atmosphere are judged to be the essential requirements. The price structure of all Relais is intended to be moderate to cater for heavy vehicle drivers who are limited in expenditure by their subsistence allowance but yet are known to have large appetites and a thirst to quench. Prices may be judged from my own experience of a Relais at St Omer 40 miles inland from Boulogne where for 20.90f (approx £1.60) I had a four-course evening meal including a small carafe of local wine (two glasses) and coffee, bed and Continental breakfast.
The majority of Relais in the Guide are in France but they have spread to other European countries and are now also to be found in Britain. Some 30 establishments in this country have received approval although only nine at present cater for heavy vehicle drivers and these are all in the South. Four are in Kent, one is in Hampshire and the remainder in Sussex.
Mrs Shiela Liebmann, the UK representative of Les Routiers is actively seeking out new premises which meet the standards in order to give wider coverage here and she has been successful in concluding an agreement with Courage Ltd, the brewers, who will now begin to display the Les Routiers symbol on many of their premises.
As well as bringing the idea of Relais to this side of the Channel, Mrs Liebmann is also recruiting British lorry drivers to the Les Routiers organization. For an annual subscription of ES, a registration fee of 80p and £1.30 for the Guide, drivers can become members and receive the same benefits as their French colleagues, namely membership of the UICR, insurance protection in the event of accident abroad, benefits to their next-of-kin in the event of death following an accident in France, an international membership card which is recognized on the Continent as a valid identity document, lapel badges, windscreen stickers and an international notebook containing useful information.
Windscreen stickers The windscreen stickers are particularly useful on the Continent because they indicate membership to foreign drivers and whatever the language difficulties it is sure to bring help from them if it is needed.
French members get the additional benefit of a hospital bed when they are sick, a convalescent home afterwards and a small pension when they retire.
Membership of Les Routiers is not a requirement for using the Relais—the Guide can be bought by non-members who may find its lists of addresses, maps and other information of use—and it is not restricted solely to lorry drivers. An associated organization, Atnis de Routiers, caters for the motorist who is also looking for cheap food and clean lodgings.
Mrs Liebmann, continuing the work of her late husband, is anxious to see a spread of better accommodation for drivers in this country and is enthusiastically pursuing this aim. The British organization is only small and limited in its activities at this stage although it does have over 15,000 British Amis des Routiers members, but Mrs Liebmann hopes to see Relais types of accommodation approved throughout the country.
Some of the other bodies who have similar objects in mind but who are going it alone might find that some sort of liaison or co-operation could lead to a better deal for the long-distance driver and this is what is needed.