The cost of going into Euro
6th August 1971
Page 56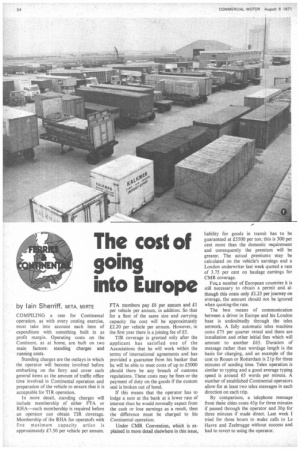 Page 57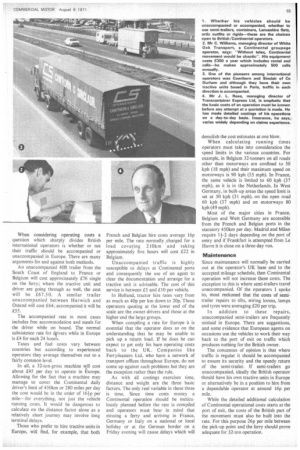 Page 56, 6th August 1971 —
The cost of going into Euro
Close
by lain Sherriff, MITA, MIRTE
COMPILING a rate for Continental operation, as with every costing exercise, must take into account each item of expenditure with something built in as profit margin. Operating costs on the Continent, as at home, are built on two main factors: standing charges and running costs.
Standing charges are the outlays in which the operator will become involved before embarking on the ferry and cover such general items as the amount of traffic office time involved in Continental operation and preparation of the vehicle to ensure that it is acceptable for TIR operation.
In more detail, standing charges will include membership of either FTA or RHA—such membership is required before an operator can obtain TIR Coverage. Membership of the RHA for operatois with five maximum capacity artics is approximately £7.50 per vehicle per annum. FTA members pay £6 per annum and £1 per vehicle per annum, in addition. So that for a fleet of the same size and carrying capacity the cost will be approximately £2.20 per vehicle per annum. However, in the first year there is a joining fee of £5.
TIR coverage is granted only after the applicant has satisfied one of the Associations that he will work within the terms of international agreements and has provided a guarantee from his banker that he will be able to meet costs of up to £5000 should there be any breach of customs regulations. These costs may be fines or the payment of duty on the goods if the custom seal is broken out of bond.
If this means that the operator has to lodge a sum at the bank at a lower rate of interest than he would normally expect from the cash or lose earnings as a result, then the difference must be charged to his Continental operation,
Under CMR Convention, which is explained in more detail els&here in this issue,
liability for goods in transit has to be guaranteed at £3500 per ton; this is 300 per cent more than the domestic requirement and consequently the premium will be greater. The actual premiums may be calculated on the vehicle's earnings and a London underwriter last week quoted a rate of 3.75 per cent on haulage earnings for CMR coverage.
For., a number of European countries it is still necessary to obtain a permit and although this costs only 11.25 per journey on average, the amount should not be ignored when quoting.the rate.
The best means of communication between a driver in Europe and his London base is undoubtedly through the telex network. A fully automatic telex machine costs £75 per quarter rental and there are installation and other initial fees which will amount to another £65. Duration of message rather. than wordage length is the basis for charging, and an example of the cost to Rouen or Rotterdam is 21p for three minutes of sending time. Telex operation is similar to typing and a good average typing speed is around 65 words per minute. A number of established Continental operators allow for at least two telex messages in each direction on each trip.
By comparison, a telephone message from these cities costs 45p for three minutes if passed through the operator and 36p for three minutes if made direct. Last week I tried for three hours to make calls to Le Havre and Zeebrugge without success and had to revert to using the operator. When considering operating costs a question which sharply divides British international operators is whether or not their traffic should be accompanied or unaccompanied in Europe. There are many arguments for and against both methods.
An unaccompanied 40ft trailer from the South Coast of England to France or Belgium will cost approximately £76 single on the ferry; where the tractive unit and driver are going through as welt, the cost will be £67.50. A similar trailer unaccompanied between Harwich and Ostend will cost £64; accompanied it will be £55.
The accompanied rate in most cases includes free accommodation and meals for the driver while on board. The normal subsistence rate for (16-ivers while in Europe is £4 for each 24 hours.
Taxes and fuel costs vary between countries but according to experienced operators they average themselves out to a fairly common level.
In all, a 32-ton-gross machine will cost about £45 per day to operate in Europe. Allowing for the fact that a machine may manage to cover the Continental daily driver's limit of 450km or 280 miles per day the cost would be in the order of 16+p per mile—for everything, not just the vehicle running costs. It would be dangerous to calculate on the distance factor alone as a relatively short journey may involve long terminal delays.
Those who prefer to hire tractive units in Europe, will find, for example, that both French and Belgian hire costs average 16p per mile. The rate normally ,charged for a load covering 210km and taking approximately five hours will cost £22 in Belgium.
Unaccompanied traffic is highly susceptible to delays at Continental ports and consequently the use of an agent to clear the documentation and arrange for a tractive unit is advisable. The cost of this service is between .E5 and £10 per vehicle.
In Holland, tractor hire rates vary from as much as 40p per km down to 20p. Those operators quoting at the lower end of the scale are the owner-drivers and those at the higher end the large groups.
When compiling a rate for Europe it is essential that the operator does so on the understanding that he may be unable to pick up a return load. If he does he can expect to get only his bare operating costs back to the UK. Companies like Ferrytnasters Ltd. who have a network of transport offices throughout Europe, do not come up against such problems but they are the exception rather than the rule.
As with all costings exercises time, distance and weight are the three basic factors. The only real variable in these three is time. Since time costs money a Continental operation should be meticulously planned before the rate is compiled and operators must bear in mind that missing a ferry and arriving in France, Germany or Italy on a national or local holiday or at the German border on a Friday evening will cause delays which will demolish the cost estimates at one blow.
When calculating running times operators must take into consideration the speed limits in the various countries. For example, in Belgium 32-tonners on all roads other than motorways are confined to 30 kph (18 mph) and their maximum speed on motorways is 90 kph (55 mph). In France, the same vehicle is limited to 60 kph (37 mph), as it is in the Netherlands. In West Germany, in built-up areas the speed limit is set at 50 kph (31 mph), on the open road 60 kph (37 mph) and on motorways 80 kph (49 mph).
Most of the major cities in France, Belgium and Wet Germany are accessible from the French and Belgian ports in the statutory 450km per day. Madrid and Milan require 14.2 days depending on the port of entry and if Frankfurt is attempted from Le Havre it is close on a three-day run.
Maintenance
Since maintenance will normally be carried out at the operator's UK base and to the accepted mileage schedule, then Continental operation will not increase these costs. The exception to this is where semi-trailers travel unaccompanied. Of the operators I spoke to, most reckoned that the costs of semitrailer repairs to tilts, .wiring looms, lamps and tyres were averaging £20 per trip.
En addition to these repairs, unaccompanied semi-trailers are frequently mislaid in Europe. There are suggestions, and some evidence that European agents on occasions use the vehicles to work their way back to the port of exit on traffic which produces nothing for the British owner.
The concensus of opinion is that where traffic is regular it should be accompanied to ensure its security and the speedy return of the semi-trailer. If semi-trailers go unaccompanied, ideally the British operator should have his own tractive units in Europe or alternatively be in a position to hire from a dependable operator at around 16p per mile.
While the detailed additional calculation of Continental operational costs starts at the port of exit, the costs of the British part of the movement must also be built into the rate. For this purpose 26p per mile between the pick-up point and the ferry should prove adequate for 32-ton operation.