European necessities
6th August 1971
Page 44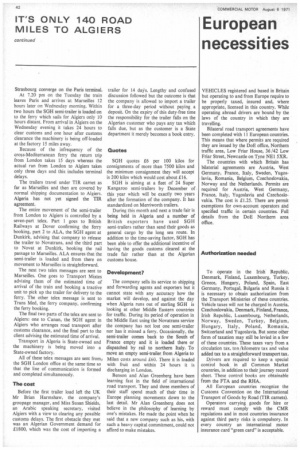 Page 44, 6th August 1971 —
European necessities
Close
VEHICLES registered and based in Britain but operating to and from Europe require to be properly taxed, insured and, where appropriate, licensed in this country. While operating abroad drivers are bound by the laws of the country in which they are travelling.
Bilateral road transport agreements have been completed with 11 European countries. This means that where permits are required they are issued by the DoE office, Northern traffic area, Low Friar House, 36/42 Low Friar Street, Newcastle on Tyne NE! 5XR.
The countries with which Britain has bilaterial agreements are Austria, West Germany, France, Italy, Sweden, Yugoslavia, Romania, Belgium, Czechoslovakia, Norway and the Netherlands. Permits are required for Austria, West Germany, France, Italy, Yugoslavia and Czechoslovakia. The cost is £1.25. There are permit exemptions for own-account operators and specified traffic in certain countries. Full details from the DoE Northern area office.
Authorization needed To operate in the Irish Republic, Denmark, Finland, Luxembourg, Turkey, Greece, Hungary, Poland, Spain, East Germany, Portugal, Bulgaria and Russia it is necessary to obtain authorization from the Transport Ministries of these countries. Vehicle taxes will not be charged in Austria. Czechoslovakia, Denmark, Finland, France, Irish Republic, Luxembourg, Netherlands, Norway, Sweden, Turkey, Belgium, Hungary, Italy, Poland, Romania, Switzerland and Yugoslavia. But some other form of taxation may still be levied in a few of these countries. These taxes vary from a circulation tax. ton /kilometre tax and value added tax to a straightforward transport tax.
Drivers are required to keep a special control book in all Common Market countries, in addition to their journey record sheet. These control books are obtainable from the PTA and the RHA.
All European countries recognize the Customs Convention on the International Transport of Goods by Road (TIR carnets).
Operators carrying goods for hire or reward must comply with the CMR regulations and in most countries insurance against third party risks is compulsory. In every country an international motor insurance card "green card" is acceptable.