It's only 140 road miles to
6th August 1971
Page 42
Page 43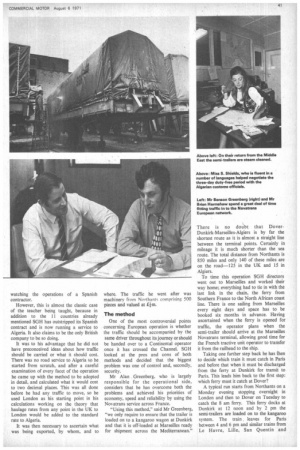 Page 42, 6th August 1971 —
It's only 140 road miles to
Close
Algiers by lain Sherriff, MITA, A1RTE Austria, Belgium, France, Germany, Greece, Holland, Italy, Portugal, Spain, Switzerland and Yugoslavia. An impressive list of destinations for any Continental operator but even more so for one who had been in transport for 18 months only. SGH (International Freight) Ltd, of 131 Wapping High Street, London Docks, London El, was conceived when Mr Benson Greenberg experienced difficulty in getting waste rags exported to Italy .following devaluation in November 1967.
During the next two years he used a Spanish operator to transport his traffic to Italy and Spain.
It was not long before Mr Greenberg found that he could sell the spare capacity on the Spanish vehicles and very soon he became a London agent for the Spanish operator.
The next step was to form SGH Ltd, a company running tractive units and trailers, and from which developed SGH (Transport) Ltd and SGH (International Freight) Ltd. Mr Greenberg attributes his success to the fact that he learned the business by watching the operations of a Spanish contractor.
However, this is almost the classic case of the teacher being taught, because in addition to the 11 countries already mentioned SGH has outstripped its Spanish contract and is now running a service to Algeria. It also clairns to be the only British company to be so doing.
It was to his advantage that he did not have preconceived ideas about how traffic should be carried or what it should cost. There was no road service to Algeria so he started from scratch, and after a careful examination of every facet of the operation he came up with the method to be adopted in detail, and calculated what it would cost to two decimal places. This was all done before he had any traffic to move, so he used London as his starting point in his calculations working on the theory that haulage rates from any point in the UK to London would be added to the standard rate to Algeria.
It was then necessary to ascertain what was being exported, by whom, and to
where. The traffic he went after was machinery from Northants comprising 500 pieces and valued at Lim.
The method
One of the most controversial points concerning European operation is whether the traffic should be accompanied by the same driver throughout its journey or should be handed over to a Continental operator once it has crossed the Channel. SGH looked at the pros and cons of both methods and decided that the biggest problem was one of control and, secondly, security.
Mr Alan Greenberg, who is largely responsible for the operational side, considers that he has overcome both the problems and achieved his priorities of economy, speed and reliability by using the Nov atrans service across France.
"Using this method," said Mr Greenberg, "we only require to ensure that the trailer is loaded on to a kangaroo wagon at Dunkirk and that it is off-loaded at Marseilles ready for shipment across the Mediterranean." There is no doubt that DoverDunkirk-Marseilles-Algiers is by far the shortest route as it is almost a straight line between the terminal points. Certainly in mileage it is much shorter than the sea route. The total distance from Northants is 850 miles and only 140 of these miles are on the road-125 in the UK and 15 in Algiers.
To time this operation SGH directors went out to Marseilles and worked their way home; everything had to tie in with the last link in the chain, the ferry from Southern France to the North African coast line. There is one sailing from Marseilles every eight days and space has to be booked six months in advance. Having ascertained when the ferry is opened for traffic, the operator plans when the semi-trailer should arrive at the Marseilles Novatrans terminal, allowing good time for the French tractive unit operator to transfer it from the railhead to the ship.
Taking one further step back he has filen to decide which train it must catch in Paris and before that when it must be discharged from the ferry at Dunkirk for transit to Paris. This leads him back to the first step: which ferry must it catch at Dover?
A typical run starts from Northants on a Monday evening stopping overnight in London and then to Dover on Tuesday to catch the 8 am ferry. This ferry docks at Dunkirk at 12 noon and by 2 pm the semi-trailers are loaded on to the kangaroo system. The train, leaves for Paris between 4 and 6 pm and similar trains from Le Havre, Lille, San Quentin and