Variation allowed after Section 69 hearing
6th August 1971
Page 34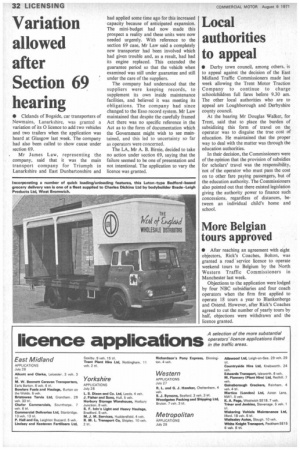 Page 34, 6th August 1971 —
Variation allowed after Section 69 hearing
Close
• Clelands of Bogside, car transporters of Newmains, Lanarkshire, was granted a variation of its 0 licence to add two vehicles and two trailers when the application was heard at Glasgow last week. The company had also been called to show cause under section 69.
. Mr James Law, representing the company, said that it was the main transport company for Triumph in Lanarkshire and East Dunbartonshire and had applied some time ago for this increased capacity because of anticipated expansion. The mini-budget had now made this prospect a reality and these units were now needed urgently. With reference to the section 69 case, Mr Law said a completely new transporter had been involved which had given trouble and, as a result, had bad its engine replaced. This extended the guarantee period so that the vehicle when examined was still under guarantee and still under the care of the suppliers.
The company had understood that the suppliers were keeping records, to supplement its own inside maintenance facilities, and believed it was meeting its obligations. The company had since changed to the Esso record system. Mr Law maintained that despite the carefully framed Act there was no specific reference in the Act as to the form of documentation which the Government might wish to see maintained, and this led to uncertainty so far as operators were concerned.
The LA, Mr A. B. Birnie, decided to take no action under section 69, saying that the failure seemed to be one of presentation and not intentional. The application to vary the licence was granted.