Scope of bus advertising analysed
6th August 1971
Page 33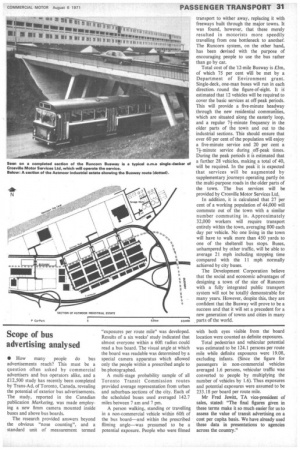 Page 33, 6th August 1971 —
Scope of bus advertising analysed
Close
• How many people do bus advertisements reach? This must be a question often asked by commercial advertisers and bus operators alike, and a /12,500 study has recently been completed by Trans-Ad, of Toronto, Canada, revealing the potential of exterior bus advertisements. The study, reported in the Canadian publication Marketing, was made employing a new 8mm camera mounted inside buses and above bus boards.
The research provided answers beyond the obvious "nose counting", and a standard unit of measurement termed "exposures per route mile" was developed. Results of a six weeks' study indicated that almost everyone within a 6011 radius could read a bus board. The visual angle at which the board was readable was determined by a special camera apparatus which allowed only the people within a prescribed angle to be photographed.
A multi-stage probability sample of all Toronto Transit Commission routes provided average representation from urban and suburban. sections of the city. Each of the scheduled buses used averaged 142.7 miles between 7 am and 7 pm.
A person walking, standing or travelling in a non-commercial vehicle within 6011 of the bus board—and within the prescribed filming angle—was presumed to be a potential exposure. People who were filmed with both eyes visible from the board location were counted as definite exposures.
Total pedestrian and vehicular potential was estimated to be 124.1 persons per route mile while definite exposures were 19.08, excluding infants. (Since the figure for passengers in non-commercial vehicles averaged 1.6 persons, vehicular traffic was converted to people by multiplying the number of vehicles by 1.6). Thus exposures and potential exposures were assumed to be 233.18 per board per route mile.
Mr Fred Jewitt, TA vice-president of sales, stated: "The final figures given in these terms make it so much easier for us to assess the value of transit advertising on a cost per capita basis. We have already used these data in presentations to agencies across the country."