Lorry builders better off
6th August 1971
Page 25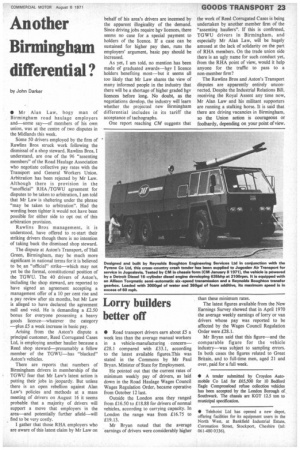 Page 25, 6th August 1971 —
Lorry builders better off
Close
• Road transport drivers earn about 1.5 a week less than the average manual workers in a vehicle-manufacturing concern— £28.1 compared with £33.1, according to the latest available figures:This was stated in the Commons by Mr Paul Bryan. Minister of State for Employment.
He pointed out that the current rates of minimum weekly pay of drivers, as laid down in the Road Haulage Wages Council Wages Regulation Order, became operative from October 12 last.
Outside the London area they ranged from £16.50 to £18.88 for drivers of normal vehicles, according to carrying capacity. In London the range was from £16.75 to £19.13.
Mr Bryan noted that the average earnings of drivers were considerably higher than these minimum rates.
The latest figures available from the New Earnings Survey showed that in April 1970 the average weekly earnings of lorry or van drivers whose pay was reported to be affected by the Wages Council Regulation Order were £28.1.
Mr Bryan said that this figure—and the comparable figure for the vehicle industry—was subject to sampling errors. In both eases the figures related to Great Britain, and to full-time men, aged 21 and over, paid for a full week.