Another Birmingham differential?
6th August 1971
Page 25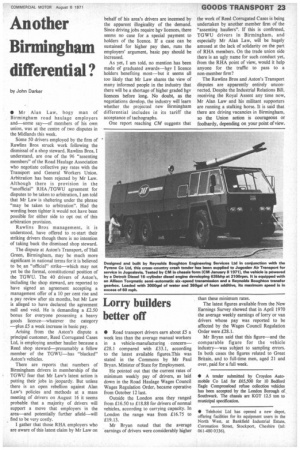 Page 25, 6th August 1971 —
Another Birmingham differential?
Close
• Mr Alan Law, bogy man of Birmingham road haulage employers and—some say—of members of his own union, was at the centre of two disputes in the Midlands this week.
Some 50 drivers employed by the firm of Rawlins Bros struck work following the dismissal of a shop steward. Rawlins Bros, I understand, are one of the 96 "assenting members" of the Road Haulage Association who negotiate collective pay rates with the Transport and General Workers Union. Arbitration has been rejected by Mr Law. Although there is provision in the "unofficial" RHA /TGWU agreement for disputes to be taken to arbitration, I am told that Mr Law is sheltering under the phrase "may be taken to arbitration". Had the wording been tighter it would not have been possible for either side to opt out of this arbitration provision.
Rawlins Bros management, it is understood, have offered to re-start their striking drivers though there is no intention of taking back the dismissed shop steward.
The dispute at Aston's Transport, of Hall Green, Birmingham, may be much more significant in national terms for it is believed to be an "official" strike—which may not yet be the formal, constitutional position of the TGWU. The 40 drivers of Aston's, including the shop steward, are reported to have signed an agreement accepting a management offer of a 10 per cent rise and a pay review after six months, but Mr Law is alleged to have declared the agreement null and void. He is demanding a £2.50 bonus for everyone possessing a heavy goods licence—whatever the category —plus £5 a week increase in basic pay.
Arising from the Aston's dispute a principal customer, Reed Corrugated Cases Ltd, is employing another haulier because a Reed shop steward—presumably a fellow member of the TGWU—has "blacked" Aston's vehicles.
There are reports that numbers of Birmingham drivers in membership of the TGWU fear that Mr Law's latest action is putting their jobs in jeopardy. But unless there is an open rebellion against Alan Law's policies and methods at a mass meeting of drivers on August 16 it seems probable that a majority of drivers will support a move that employers in the area—and potentially further afield—will find to be very costly.
I gather that those RHA employers who are aware of this latest claim by Mr Law on behalf of his area's drivers are incensed by the apparent illogicality of the demand. Since driving jobs require hgv licences, there seems no case for a special payment to holders of the licence. If a case can be sustained for higher pay then, runs the employers' argument, basic pay should be increased.
As yet, I am told, no mention has been made of graduated awards—hgv I licence holders benefiting most—but it seems all too likely that Mr Law shares the view of many informed people in the industry that there will be a shortage of higher graded hgv licences before long. No doubt, as the negotiations develop, the industry will learn whether the projected new Birmingham differential includes in its tariff the acceptance of tachographs.
One report reaching CM suggests that the work of Reed Corrugated Cases is being undertaken by another member firm of the "assenting hauliers". If this is confirmed, TGWU drivers in Birmingham, and especially Mr Alan Law, will be hugely amused at the lack of solidarity on the part of RHA members. On the trade union side there is an ugly name for such conduct yet, from the RHA point of view, would it help anyone for the traffic to pass to a non-member firm?
The Rawlins Bros and Aston's Transport disputes are apparently entirely unconnected. Despite the Industrial Relations Bill, receiving the Royal Assent any time now, Mr Alan Law and his militant supporters are running a stalking horse. It is said that there are driving vacancies in Birmingham, so the Union action is courageous or foolhardy, depending on your point of view.