Terry makes it plain sailing
6th August 1971
Page 24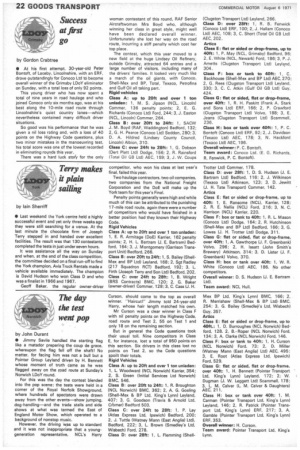 Page 24, 6th August 1971 —
Terry makes it plain sailing
Close
• Last weekend the York centre held a highly successful event and yet only three weeks ago they were still searching for a venue. At the last minute the chocolate firm of Joseph Terry stepped in and handed over excellent facilities, The result was that 130 contestants completed the tests in just under seven hours.
It was assistance all the way on Sunday and when, at the end of the class competition, the committee decided on a finai run-off to find the York champion, Avis Truck Rentals made a vehicle available immediately. The champion is David Hudson who won Class D and who was a finalist in 1966 and 1967.
Geoff Baker, the regular owner-driver competitor, who won his class at last year's final, failed this year.
Two haulage contractors, two oil companies, two companies from the National Freight Corporation and the DoE will make up the York team for this year's Final.
Penalty points generally were high and while much of this can be attributed to the punishing 17-mile road route, again there were a number of competitors who would have finished in a better position had they known their Highway Code.
Rigid Vehicles Class A: up to 20ft and over 1 ton unladen: 1, E. R. Armitage (DoE) Karrier, 162 penalty points; 2, H. L. Bartram (J. E. Bartram) Bedford, 164: 3. J. Montgomery (Garrison Transport Unit) Bedford. 266.
Class B: over 20ft to 24ft: 1, S. Bailey (ShellMex and BP Ltd) Leyland, 168; 2, Sgt Radiey (217 Squadron ACT) Bedford, 192; 3, L. Firth (Joseph Terry and Son Ltd) Bedford, 202. Class C: over 24ft to 28ft: 1, B. Wright (BRS Contracts) BMC, 120; 2, G. Baker (owner-driver) Commer, 128:3, C. Cass (J. H. Trotter Ltd) Commer, 178.
Class D: over 28ft: 1, D. S. Hudson (J. E. Bartram Ltd) Bedford. 116; 2. J. Wilkinson (Texaco Ltd) Atkinson, 123; 3, D. Jewitt (J. H. Tate Transport) Commer. 142.
Artics Class E: flat or sided or drop-frame, up to 40ft: 1, E. Ransome (NCL), Karrier, 128; 2, R. E. Nellis (NCL) Ford, 216; 3, N. C. Harrison (NCL.) Karrier. 220.
Class F: box or tank to 40ft: 1, R. L. Mason (Conoco Ltd) Dodge, 164; 2, R. Hutchinson (Shell-Mex and BP Ltd) Bedford, 166; 3, G. Lowes (J. H. Trotter Ltd) Dodge. 311.
Class G: flat or sided, flat or drop-frame, over 40ft: 1, A. Gawthorpe (J. F. Greenbank) Volvo, 296; 2, H. Issatt (John Smith's Brewery) Atkinson, 314; 3, D. Lister (J. F. Greenbank) Volvo, 370.
Class H: box or tank over 40ft: 1, W. R. White (Conoco Ltd) AEC, 186. No other competitors.
Overall winner: D. S. Hudson (J, E. Bartram Ltd).
Team award: NCL Hull.