Success at first go
6th August 1971
Page 24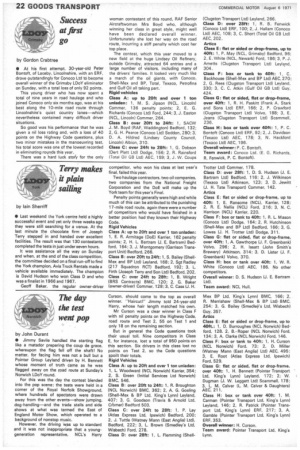 Page 24, 6th August 1971 —
Success at first go
Close
Keywords :
Economy Of The United States
,
Conocophillips
,
Transport
,
Conoco Inc.
,
Kay County, Oklahoma
,
Ogden, Utah
,
Associated Equipment Company
,
Texaco
,
Gulf Oil
,
Energy In The United States
• At his first attempt, 30-year-old Peter Bontoft, of Laceby, Lincolnshire, with an ERF, drove outstandingly for Conoco Ltd to become overall winner of the Grimsby LDoY eliminator on Sunday, with a total loss of only 92 points.
This young driver who has now spent a total of nine years in road haulage and who joined Conoco only six months ago, was at his best along the 10-mile road route through Lincolnshire's quiet country lanes—which nevertheless contained many difficult driver situations.
So good was his performance that he was given a nil loss rating and, with a loss of 40 points on the Highway Code questions, plus two minor mistakes in the manoeuvring test, his total score was one of the lowest recorded in eliminating rounds this year.
There was a hard luck story for the only woman contestant of this round, RAF Senior Aircraftwoman Mrs Boyd who, although winning her class in great style, might well have been declared overall winner. Unfortunately she lost her way on the road route, incurring a stiff penalty which cost her top place.
The contest, which this year moved to a new field at the huge Lindsey Oil Refinery, outside Grimsby, attracted 64 entries and a large number of visitors, including many of the drivers families. It looked very much like a march of the oil giants, with Conoco. Shell-Mex and BP, Total, Texaco, Petrofina and Gulf Oil all taking part.
Rigid vehicles Class A: up to 20ft and over 1 ton unladen: 1, M. S. Jipson (NCL, Lincoln) Commer, 136 penalty points; 2, E. G. Richards (Conoco Ltd) Ford, 244; 3, J. Easton (NCL, Lincoln) Commer, 264.
Class B: over 20ft to 24ft: 1, SACW J. M. Boyd (RAF, Waddington) Bedford, 132; 2, G. H. Pearce (Conoco Ltd) Seddon, 280; 3, D. A. Hildred (Lindsey County Council, Lincoln) Albion, 310.
Class C: over 24ft to 28ft: 1, G. Dobson (Dert Platt Ltd) Dodge, 156; 2, R. Rainsford (Total Oil GB Ltd) AEC, 159; 3, J. W. Coups (Clugston Transport Ltd) Leyland, 266.
Class D: over 28ft: 1, R. B. Fenwick (Conoco Ltd) ERE, 100; 2, J. Hallam (Conoco Ltd) AEC, 108: 3, C. Short (Total Oil GB Ltd) AEC, 202.
Artics Class E: flat or sided or drop-frame, up to 40ft: 1, P. May (NCL, Grimsby) Bedford, 96; 2, E. White (NCL, Newark) Ford, 186:3, P. J. Arnetts (Clugston Transport Ltd) Leyland, 304.
Class F: box or tank to 40ft: 1, C. Backhouse (Shell-M ex and BP Ltd) AEC, 270; 2, G. Rees (Clugston Transport Ltd) Leyland, 330; 3, C. C. Atkin (Gulf Oil GB Ltd) Guy, 424.
Class G: flat or sided, flat or drop-frame, over 40ft: 1, R. H. Paskitt (Frank A. Stark and Sons Ltd) ERF, 166; 2, P. Crawford (Clugston Transport Ltd) Volvo, 188; 3, E. Jeans (Clugston Transport Ltd) Scammell, 236.
Class H: box or tank over 40ft: 1, P. C. Bontoft (Conoco Ltd) ERF, 92; 2, J. Davidson (Texaco Ltd) AEC, 178; 3, N. Hackford (Texaco Ltd) AEC, 196.
Overall winner: P. C. Bontoft.
Team award: Conoco Ltd. (E. G. Richards, R. Fenwick, P. C. Bontoft).