MPs praise Transport Managers Guild survey
6th August 1971
Page 23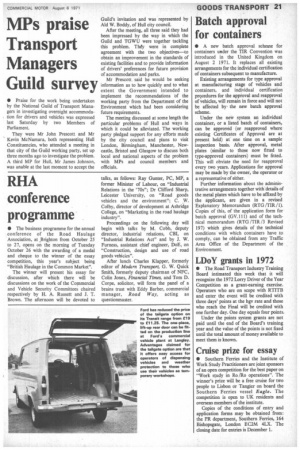 Page 23, 6th August 1971 —
MPs praise Transport Managers Guild survey
Close
• Praise for the work being undertaken by the National Guild of Transport Managers in investigating overnight accommodation for drivers and vehicles was expressed last Saturday by two Members of Parliament.
They were Mr John Prescott and Mr Kevin McNamara, both representing Hull Constituencies, who attended a meeting in that city of the Guild working party, set up three months ago to investigate the problem. A third MP for Hull, Mr James Johnson, was unable at the last moment to accept the Guild's invitation and was represented by Aid W. Boddy, of Hull city council.
After the meeting, all three said they had been impressed by the way in which the Guild and TGWU were together tackling this problem. They were in complete agreement with the two objectives—to obtain an improvement in the standards of existing facilities and to provide information of drivers' preferences for future provision of accommodation and parks.
Mr Prescott said he would be seeking information as to how quickly and to what extent the Government intended to implement the recommendations of the working party from the Department of the Environment which had been considering future requirements.
The meeting discussed at some length the particular problems of Hull and ways in which it could be alleviated. The working party pledged support for any efforts made by the city council and plans to visit London, Birmingham, Manchester, Newcastle, Bristol and Glasgow to discuss both local and national aspects of the problem with MPs and council members and officials.