Batch approval for containers
6th August 1971
Page 23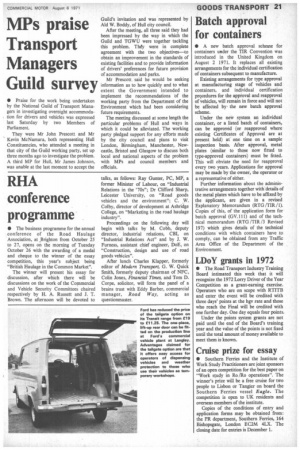 Page 23, 6th August 1971 —
Batch approval for containers
Close
• A new batch approval scheme for containers under the TIR Convention was introduced in the United Kingdom on August 2 1971. It replaces all existing arrangements for the individual certification of containers subsequent to manufacture.
Existing arrangements for type approval at manufacturing stage of vehicles and containers, and individual certification prqcedures for the approval and reapproval of vehicles, will remain in force and will not be affected by the new batch approval scheme.
Under the new system an individual container, or a listed batch of containers, can be approved (or reapproved where existing Certificates of Approval are at present held) at one time on a sample inspection basis. After approval, metal plates (similar to those now fitted to type-approved containers) must be fitted. This will obviate the need for reapproval every two years. Applications for approval may be made by the owner, the operator or a representative of either.
Further information about the administrative arrangements together with'details of the metal plates which have to be affixed by the applicant, are given in a revised Explanatory Memorandum (RTG /TIR /I). Copies of this, of the application form for batch approval (GV.111) and of the technical memorandum (RTG /TIR /3 Revised 197) which gives details of the technical conditions with which containers have to comply, can be obtained from any Traffic Area Office of the Department of the Environment.