Transport congress in Berlin
6th August 1971
Page 22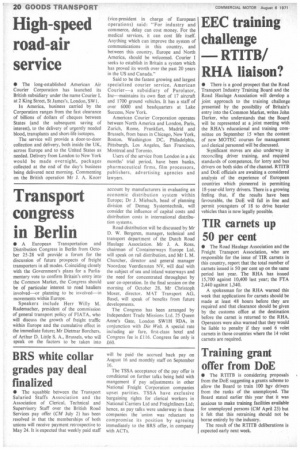 Page 22, 6th August 1971 —
Transport congress in Berlin
Close
Keywords :
Transport
,
Shipping
,
Logistics
,
International Federation Of Freight Forwarders Associations
,
Demag
,
Intermodal Freight Transport
,
Rademacher
,
Indian National Congress
,
Freight Rail Transport
,
Politics
,
Business / Finance
• A European Transportation and Distribution Congress in Berlin from October 25-28 will provide' a forum for the discussion of future prospects of freight transporters in all modes. Coinciding closely with the Government's plans for a Parliamentary vote to confirm Britain's entry into the Common Market, the Congress should be of particular interest to road hauliers involved—or planning to be involved—in movements within Europe.
Speakers include Herr Willy M. Rademacher, president of the commission of general transport policy of FIATA, who will discuss the growth of freight traffic within Europe and the cumulative effect in the immediate future; Mr Dietmar Borchers, of Arthur D. Little S. A., Brussels, who will speak on the factors to be taken into
account by manufacturers in evaluating an economic distribution system within Europe; Dr J, Miebach, head of planning division of Demag Systemtechnik, will consider the influence of capital costs and distribution costs in international distribution systems.
Road distribution will be discussed by Mr D. W. Bergeren, manager, technical and transport department of the Dutch Road Haulage Association. Mr J. A. Ross, chairman of Containerways Europe Ltd, will speak on rail distribution, and Mr I. M. Churcher, director and general manager Noordzee Veerdiensten NV, will deal with the subject of sea and inland waterways and the need for concentrated throughput by user co-operation. In the final session on the morning of October 28. Mr Christoph Moser, director. M NT Transport AG, Basel, will speak of benefits from future developments.
The Congress has been arranged by Independent Trade Missions Ltd. 25 Queen Anne's Gate, London SWIH 9DA, in conjunction with Die Well. A special rate including air fare, first-class hotel and Congress fee is £116. Congress fee only is £60.