High-speed road-air service
6th August 1971
Page 22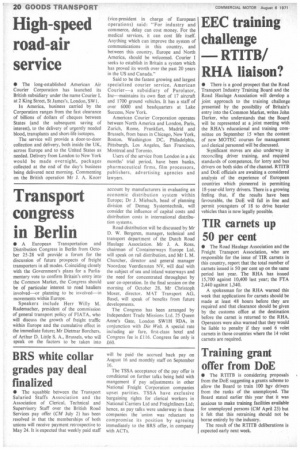 Page 22, 6th August 1971 —
High-speed road-air service
Close
• The long-established American Air Courier Corporation has launched its British subsidiary under the name Courier I, at 2 King Street, St James's, London, SW I.
In America, business carried by the Corporation ranges from the fast clearance of billions of dollars of cheques between States (and the subsequent saving of interest), to the delivery of urgently needed blood, transplants and short-life isotopes.
The service will provide a door-to-door collection and delivery, both inside the UK, across Europe and to the United States as needed. Delivery from London to New York would be made overnight, packages collected at the end of the day's business being delivered next morning. Commenting on the British operation Mr J. A. Knorr (vice-president in charge of European operations) said: "For industry and commerce, delay can cost money. For the medical services, it can cost life itself. Anything which can improve the system of communications in this country, and between this country, Europe and North America, should be welcomed. Courier I seeks to establish in Britain a system which has proved its worth over the past 20 years in the US and Canada."
Said to be the fastest growing and largest specialized courier service, American Courier—a subsidiary of Purolator, Inc—maintains its own fleet of 17 aircraft and 1700 ground vehicles. It has a staff of over 6000 and headquarters at Lake Success, New York.
American Courier Corporation operates between North America and London, Paris, Zurich, Rome, Frankfurt, Madrid and Brussels, from bases in Chicago, New York, Boston. Washington DC, Philadelphia, Pittsburgh, Los Angeles, San Francisco, Montreal and Toronto.
Users of the service from London in a six months' trial period, have been banks, pharmaceutical firms, film processors, publishers, advertising agencies and lawyers.
Tags
Locations
:
Zurich
,
Philadelphia
,
Madrid
,
San Francisco
,
Pittsburgh
,
Rome
,
Los Angeles
,
Toronto
,
Washington DC
,
Frankfurt
,
Montreal
,
London
,
Boston
,
Brussels
,
New York
,
Chicago
,
Paris