EEC training challenge RIM RHA liaison?
6th August 1971
Page 22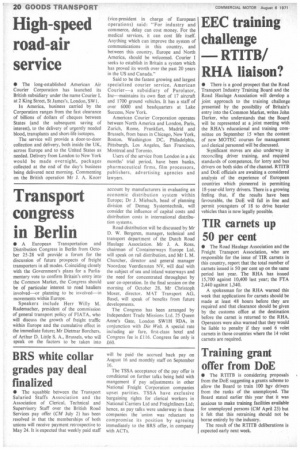 Page 22, 6th August 1971 —
EEC training challenge RIM RHA liaison?
Close
• There is a good prospect that the Road Transport Industry Training Board and the Road Haulage Association will develop a joint approach to the training challenge presented by the possibility of Britain's entry into the Common Market, writes John Darker, who understands that the Board will be represented at a joint meeting with the RHA's educational and training committee on September 15 when the content of new MOTEC courses for management and clerical personnel will be discussed.
Significant moves are also underway in reconciling driver training, and required standards of competence, for lorry and bus drivers on both sides of the channel. RTITB and DoE officials are awaiting a considered analysis of the experience of European countries which pioneered in permitting 18-year-old lorry drivers. There is a growing feeling that, if the results have been favourable, the DoE will fall in line and permit youngsters of 18 to drive heavier vehicles than is now legally possible.