Lorry park chaos predicted
6th August 1971
Page 21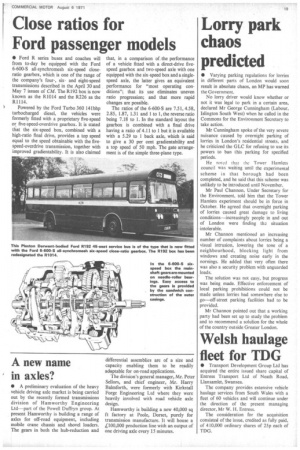 Page 21, 6th August 1971 —
Lorry park chaos predicted
Close
• Varying parking regulations for lorries in different parts of London would soon result in absolute chaos, an MP has warned the Government.
No lorry driver would know whether or not it was legal to park in a certain area, declared Mr George Cunningham (Labour, Islington South West) when he called in the Commons for the Environment Secretary to take action.
Mr Cunningham spoke of the very severe nuisance caused by overnight parking of lorries in London's residential streets, and he criticized the GLC for refusing to use its powers to ban this parking for specified periods.
He noted that the Tower Hamlets council was waiting until the experimental scheme in that borough had been completed, and he said that this scheme was unlikely to be introduced until November.
Mr Paul Channon, Under Secretary for the Environment, told him that the Tower Hamlets experiment should be in force in October. He agreed that overnight parking of lorries caused great damage to living conditions—increasingly people in and out of London were finding thIl situation • intolerable.
Mr Channon mentioned an increasing number of complaints about lorries being a visual intrusion, lowering the tone of a neighbourhood, blocking light from windows and creating noise early in the nornings. He added that very often there was also a security problem with unguarded loads.
The solution was not easy, but progress was being made. Effective enforcement of local parking prohibitions could not be made unless lorries had somewhere else to go—off-street parking facilities had to be provided.
Mr Channon pointed out that a working party had been set up to study the problem and to recommend a solution for the whole of the country outside Greater London.