Close ratios for Ford passenger models
6th August 1971
Page 21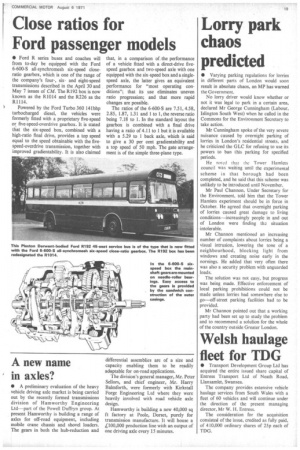 Page 21, 6th August 1971 —
Close ratios for Ford passenger models
Close
• Ford R series buses and coaches will from to-day be equipped with the Ford 6-600-S all-synchromesh six-speed closeratio gearbox, which is one of the range of the company's four-, sixand eight-speed transmissions described in the April 30 and May 7 issues of CM. The R192 box is now known as the R1014 and the R226 as the R1114.
Powered by the Ford Turbo 360 141bhp turbocharged diesel, the vehicles were formerly fitted with a proprietary five-speed or five-speed-overdrive gearbox. It is stated that the six-speed box, combined with a high-ratio final drive, provides a top speed equal to the speed obtainable with the fivespeed-overdrive transmission, together with improved gradientability. It is also claimed that, in a comparison of the performance of a vehicle fitted with a direct-drive fivespeed gearbox and two-speed axle with one equipped with the six-speed box and a singlespeed axle, the latter gives an equivalent performance for "most operating conditions"; that its use eliminates uneven ratio progression; and that more rapid changes are possible.
The ratios of the 6-600-S are 7.51, 4.58, 2.85, 1.87, 1.31 and Ito 1, the reverse ratio being 7.18 to 1. In the standard layout the gearbox is combined with a final drive having a ratio of 4.11 to 1 but it is available with a 5.29 to 1 back axle, which is said to give a 30 per cent gradientability and a top speed of 50 mph. The gate arrangement is of the simple three-plane type.