What the new proposals mean
6th August 1971
Page 20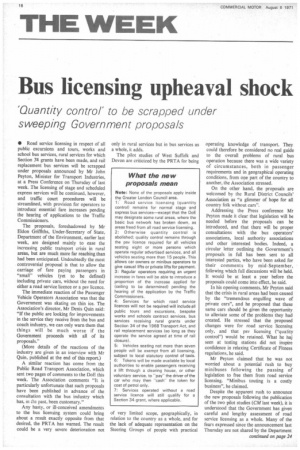 Page 20, 6th August 1971 —
What the new proposals mean
Close
Note: None of the proposals apply inside the Greater London Council area.
1:" Road service licensing (quantity control) remains for normal stage and express bus services—except that the DoE may designate some rural areas, where the basic bus network has broken down, as areas freed from all road service licensing.
2: Otherwise quantity control is abolished: quality control remains through the psv licence required for all vehicles seating eight or more persons which operate regular advertised services, and all vehicles seating more than 15 people. This allows car owners or minibus operators to give casual lifts or private lifts for payment.
3: Regular operators requiring an urgent increase in fares will be able to introduce a proportion of the increase applied for (ceiling to be determined) pending the hearing of the application by the Traffic Commissioners.
4: Services for which road service licences will not be required will include all public tours and excursions, bespoke works and schools contract services, bus services receiving rural grants under Section 34 of the 1968 Transport Act, and rail replacement services (so long as they operate the service agreed at time of rail closure).
5: Vehicles seating not more than seven people will be exempt from all licensing, subject to local statutory control of taxis.
6: Tokens will be made available by local authorities to enable passengers receiving a lift through a clearing house, or other voluntary service, to "pay" the driver of the car who may then "cash" the token for cost of petrol only.
7: Services operated without a road service licence will still qualify for a Section 34 grant, where applicable.