Bus licensing upheaval shock
6th August 1971
Page 20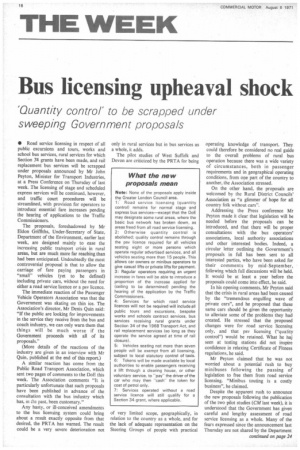 Page 20, 6th August 1971 —
Bus licensing upheaval shock
Close
'Quantity control' to be scrapped under sweeping Government proposals
• Road service licensing in respect of all public excursions and tours, works and school bus services, rural services for which Section 3'4 grants have been made, and rail replacement bus services will be scrapped under proposals announced by Mr John Peyton, Minister for Transport Industries, at a Press Conference on Thursday of last week. The licensing of stage and scheduled express services will be continued, however, and traffic court procedures will be streamlined, with provision for operators to introduce essential fare increases pending the hearing of applications to the Traffic Commissioners.
The proposals, foreshadowed by Mr Eldon Griffiths, Under-Secretary of State, Department of the Environment, earlier last week, are designed mainly to ease the increasing public transport crisis in rural areas, but are much more far reaching than had been anticipated. Undoubtedly the most controversial proposal is that to allow the carriage of fare paving passengers in "small" vehicles (yet to be defined) including private cars, without the need for either a road service licence or a psv licence.
The immediate reaction of the Passenger Vehicle Operators Association was that the Government was skating on thin ice. The Association's director, Mr Denis Quin said: "If the public are looking for improvements in the service they receive from the bus and coach industry, we can only warn them that things will be much worse if the Government proceeds with all of its proposals."
(More details of the reactions of the industry are given in an interview with Mr Quin, published at the end of this report.)
A similar reaction has come from the Public Road Transport Association, which sent two pages of comments to the DoE this week. The Association comments "It is particularly unfortunate that such proposals have been published in advance of the consultation with the bus industry which has, in the past, been customary."
Any hasty, or ill-conceived amendments to the bus licensing system could bring about a result exactly opposite from that desired, the PRTA has warned. The result could be a very severe deterioration not only in rural services but in bus services as a whole, it adds.
The pilot studies of West Suffolk and Devon are criticized by the PRTA for being of very limited scope, geographically, in relation to the country as a whole, and for the lack of adequate representation on the Steering Groups of people with practical operating knowledge of transport. They could therefore be considered no real guide to the overall problems of rural bus operation because there was a wide variety of circumstances, both in passenger requirements and in geographical operating conditions, from one part of the country to r another, the Association stressed.
On the other hand, the proposals are welcomed by the Rural District Councils' Association as "a glimmer of hope for all country folk without cars".
Addressing the Press conference Mr Peyton made it clear that legislation will be needed before the proposals can be introduced, and that there will be proper consultations with the bus operators' associations, local authority associations and other interested bodies. Indeed, a circular letter outlining the Government's proposals in full has been sent to all interested parties, who have been asked for their comments by mid-September, following which full discussions will be held. It would be at least a year before the proposals could come into effect, be said.
In his opening comments, Mr Peyton said that the crisis in rural areas had been caused by the "tremendous engulfing wave of private cars", and he proposed that these same cars should be given the opportunity to alleviate some of the problems they had created. He stressed that the proposed changes were for road service licensing only, and that psv licensing ("quality control") would he retained. What he haj seen at testing stations did not inspire confidence in relaxing Certificate of Fitness regulations, he said.
Mr Peyton claimed that he was not worried about a potential rush to buy minibuses following the passing of legislation to free them from road service licensing. "Minibus touting is a costly business", he claimed.
Despite the apparent rush to announce the new proposals following the publication of the two pilot studies (CM last week), it is understood that the Government has given careful and lengthy assessment of road service licensing as a whole. Many of the fears expressed since the announcement last Thursday are not shared by the Department