Drastic medicine for bus ills
6th August 1971
Page 19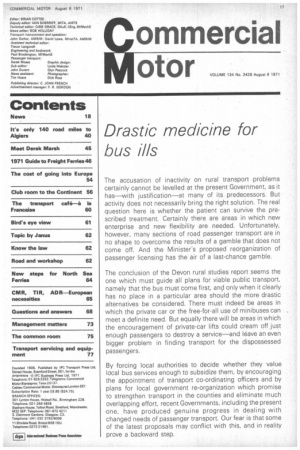 Page 19, 6th August 1971 —
Drastic medicine for bus ills
Close
The accusation of inactivity on rural transport problems certainly cannot be levelled at the present Government, as it has—with justification—at many of its predecessors. But activity does not necessarily bring the right solution. The real question here is whether the patient can survive the prescribed treatment. Certainly there are areas in which new enterprise and new flexibility are needed. Unfortunately, however, many sections of road passenger transport are in no shape to overcome the results of a gamble that does not come off. And the Minister's proposed reorganization of passenger licensing has the air of a last-chance gamble.
The conclusion of the Devon rural studies report seems the one which must guide all plans for viable public transport, namely that the bus must come first, and only when it clearly has no place in a particular area should the more drastic alternatives be considered. There must indeed be areas in which the private car or the free-for-all use of minibuses can meet a definite need. But equally there will be areas in which the encouragement of private-car lifts could cream off just enough passengers to destroy a service and leave an even bigger problem in finding transport for the dispossessed passengers.
By forcing local authorities to decide whether they value local bus services enough to subsidize them, by encouraging the appointment of transport co-ordinating officers and by plans for local government re-organization which promise to strengthen transport in the counties and eliminate much overlapping effort, recent Governments, including the present one, have produced genuine progress in dealing with changed needs of passenger transport. Our fear is that some of the latest proposals may conflict with this, and in reality prove a backward step.