PASSENGER-TRANSPORT RESULTS AT GRIMSBY.
6th August 1929
Page 67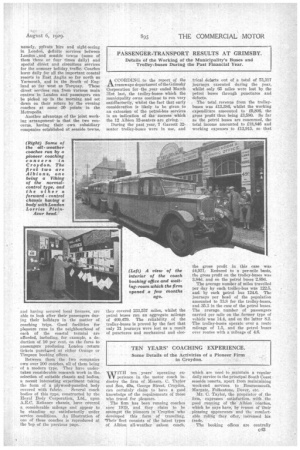 Page 67, 6th August 1929 —
PASSENGER-TRANSPORT RESULTS AT GRIMSBY.
Close
Details of the Working of the Municipality's Buses and Trolley-buses During the Past Financial Year.
ACCORDING to the report of the tramways department of the Grimsby Corporation for the year ended March 21st last, the trolley-buses, which the municipality owns continue to run very satigTactorily, whilst the fact that early consideration is likely to be given to an extension of the petrol-bus services is an indication of the success 'which the 12 Albion 32-seaters are. giving.
During the past year, 7 Garrett 32seater trolley-buses were in use, and they covered 233,537 miles, whilst the petrol buses ran an aggregate mileage of 409,479. The reliability of the trolley-buses is proved by the fact that only 21 journeys were lost as a result of punctures and mechanical and elec trical defects out of a total of 73,317 journeys executed during the year, whilst only 65 miles were lost by the petrol buses through punctures and defects.
The total revenue from the trolleybuses was £13.356, whilst the working expenditure amounted to £9,806, the gross profit thus being £3,580. So far as the petrol buses are concerned, the total income amounted to £18,846 and working expenses to £13,915, SO that
the gross profit in this case was £4,931. Reduced to a per-mile basis, the gross profit on the trolley-buses was 3.84d. and on the petrol buses 2.89d.
The average number of miles travelled per day by each trolley-bus was 122.5. and by each petrol bus 124.6. The journeys per head of the population amounted to 33.8 for the trolley-buses, and 35.3 in the case of the petrol buses, The average number of passengers carried per mile on the former type of vehicle was 14.4, and on the latter 8.2. The trolley-buses operate over a route mileage of 1.5, and the petrol buses over routes with a mileage of 4.6.