ADDITIONS TO A NEWCASTLE - LONDON FLEET.
6th August 1929
Page 66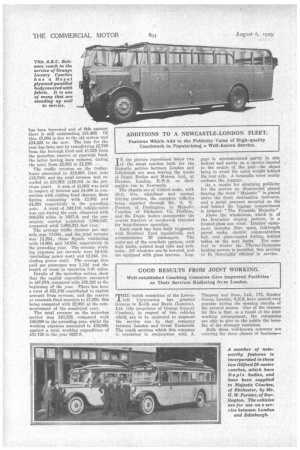 Page 66, 6th August 1929 —
ADDITIONS TO A NEWCASTLE - LONDON FLEET.
Close
Features Which Add to the Publicity Value of Fligh-quaiity , Coachwork in Popularizing a Well-known Service.
IN the picture reproduced below two of . the latest coaches built for the Majestic service between London and Edinburgh are seen leaving the works of .Duple Bodies and Motors, Ltd., at Hendon, London, N.W.9, on their maiden rue to Newcastle. .
The chassis are of Gilford make, with 16-ft. 6-in. wheelbase and normal driving position, the complete Vehicles being supplied 'through. Mr. G. W. Forster, of Darlington, to Majestic Coaches, of Ebehester, Co.. Durham, and the Duple bodies incorporate the newest features of coachwork intended for long-distance operatiOn.
. Each '.ctrach has been built to Eomply with _Scotland Yard regulations, and accommodates 26 Paisengers. The Seats • are of the armchair pattern, with high backs, padded head rolls and arinre.sts. All windows can be lowered, and are equipped with glass louvres. Lug
gage is accommodated partly in side lockers and partly on a carrier located in the centre of .the roof—the object being to avoid the extra weight behind the rear axle. A tarpaulin cover neatly encloses the luggage.
As a means for obtaining publicity for the service an illuminated" plaque bearing the word " Majestic " is placed above ' thd front destination indicator, and a metal pennant mounted on the roof behind the luggage compartment is lettered " The Tyneside Majestic."
Above the windscreen, which is of the four-piece sloping pattern, is a frosted-glass sun visor. Interior equipment includes . fibre mats, full-length parcel racks, electric communication bell:: and glass-topped folding walnut tables on the seat backs. For comfortin "Winter the .Thermo-Economic heating system is installed, this prOving to be. thoroughly efficient in service.