Further Details of the New Bean 25-cwt. Chassis
6th August 1929
Page 48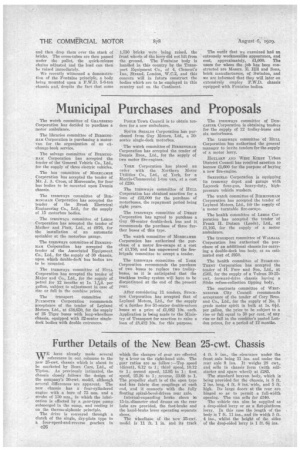 Page 48, 6th August 1929 —
Further Details of the New Bean 25-cwt. Chassis
Close
wE have already made several references in our columns to the new 25-cwt. chassis which is about to be marketed by Bean Cars, Ltd., of Tipton. As previously intimated, the chassis closely follows the design of the company's 20-cwt. model, although several differences are apparent. The new chassis has a four-cylindered engine with a bore of 75 mm. and a stroke of 130 mm., itt which the lubrication is effected by a gear-type Pump submerged in the sump, and cooling is on the thertno-siphonic principle.
The drive is conveyed through a clutch of the single, dry-plate type to a four-speed-and-reverse gearbox in
c26
which the changes of gear are effected by a lever on the right-hand side. The gear ratios are as follow :—Top speed (direct), 6.12 to 1; third speed, 10.12 to 1; second speed, 13.95 to 1; first speed, 25.26 to 1; reverse, 33.68 to 1. The propeller shaft is of the open type and has fabric disc couplings at each end, -and it connects with the fully floating spiral-bevel-driven rear axle.
Internal-expanding brake shoes in 15-in.-diameter steel drums on the rear hubs are provided, the foot-brake and the hand-brake lever operating separate shoes, _
r.Phe Wheelbase of the new 25-cwt. model is 11 'ft. I. in. and its track
4 ft. S ins., the clearance under, the front axle being 11 ins. and under the rear axle 0 ins. It weighs 28 cwt,, and,. sells in chassis form (with selfstarter and spare wheel) at ±285.
The standard boxyan body, which is being provided for the chassis, is 8 ft. 2 ins. long, 4 ft. 8 ins, wide, and 5 ft. high. Its large doors at the rear are hinged so as to permit a full-width opening. The van sells for £340.
The vehicle can also be supplied as a drop-sided lorry or as a flat-platform lorry. In this case the length of the body is 7 ft. 11 ins., and its width 5 ft. 4 ins., whilst the height of the sides of the drop-sided lorry is 1 ft. 6i