Insurance set to rise
5th September 1996
Page 9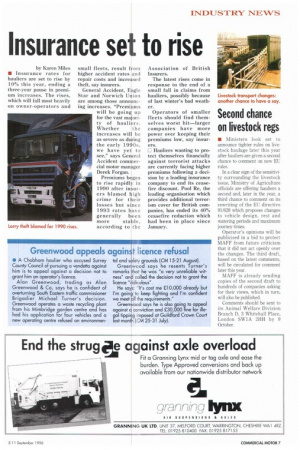 Page 9, 5th September 1996 —
Insurance set to rise
Close
by Karen Miles • Insurance rates for hauliers are set to rise by 10% this year, ending a three-year pause in premium increases. The rises, which will fall most heavily on owner-operators and small fleets, result from higher accident rates and repair costs and increased theft, say insurers.
General Accident, Eagle Star and Norwich Union are among those announcing increases. "Premiums will be going up for the vast majority of hauliers.
Whether the increases will be as severe as during the early 1990s. we have yet lo see," says General Accident commercial motor manager Derek Forgan.
Premiums began to rise rapidly in 1990 after insurers blamed high crime for their losses but since 1993 rates have generally been more stable, according to the Association of British Insurers.
The latest rises come in response to the end of a small fall in claims from hauliers, possibly because of last winter's bad weather.
Operators of smaller fleets should find themselves worst hit—larger companies have more power over keeping their premiums low, say insurers.
Hauliers wanting to protect themselves financially against terrorist attacks are currently facing higher premiums following a decision by a leading insurance company to end its ceasefire discount. Pool Re, the leading organisation which provides additional terrorism cover for British companies, has ended its 40% ceasefire reduction which had been in place since January.