French farmers' new threat to UK trucks
5th September 1996
Page 7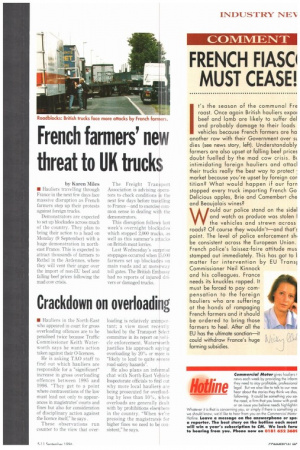 Page 7, 5th September 1996 —
French farmers' new threat to UK trucks
Close
by Karen Miles • Hauliers travelling through France in the next few days face massive disruption as French farmers step up their protests against foreign trucks.
Demonstrators are expected to set up blockades across much of the country. They plan to bring their action to a head on Monday (9 September) with a huge demonstration in northeast France. This is expected to attract thousands of farmers to Rethel in the Ardennes, where they will vent their anger over the import of non-EC beef and falling beef prices following the mad cow crisis. The Freight TraI.Association is advising tors to check conditions in the next few days before travelling to France—and to exercise common sense in dealing vei*i the demonstrators.
This disruption follow last week's overnight bloc ades which stopped 2.000 true s. as well as this summer's at acks on British meat lorries.
Last Wednesday's su4pritie stoppages occurred when 15.000 farmers set up blockadks on main roads and at motorway toll gates. The British Embassy had no reports of injured drivers or damaged trucks.