Crackdown on overloading
5th September 1996
Page 7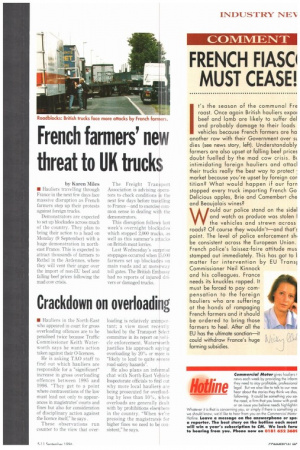 Page 7, 5th September 1996 —
Crackdown on overloading
Close
• Hauliers in the North-East who appeared in court for gross overloading offences are to be penalised twice because Traffic Commissioner Keith Water. worth says he wants action taken against their 0-licences.
He is asking TA() staff to find out which hauliers are responsible for a "significant" increase in gross overloading offences between 1995 and 1996. "They get to a point where contraventions of the law must lead not only to appearances in magistrates' courts and fines but also for consideration of disciplinary action against the licence itself," he says .
These observations run counter to the view that over
loading is relatively unimportant; a view most rec nt -backed by the Transport lt committee in its report on vehicle enforcement. Water orth justifies his approach s ying overloading by 209...0or m re is "likely to lead to quite s vere road safety hazards".
He also plans an inf mil chat with North-East V icle Inspectorate officials to fi out why more local haulier are being prosecuted for overloading by less than l0',-hen overloads are generally ealt with by prohibitions elsewhere in the country. "When we're pressing the magistrate for higher fines we need to be consistent," he says.