Course fishi
5th September 1996
Page 46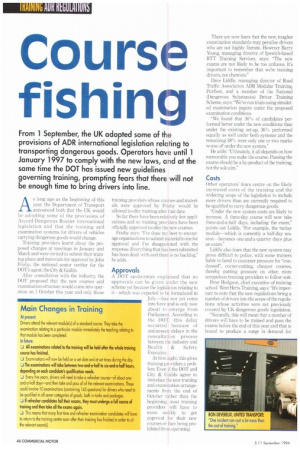 Page 47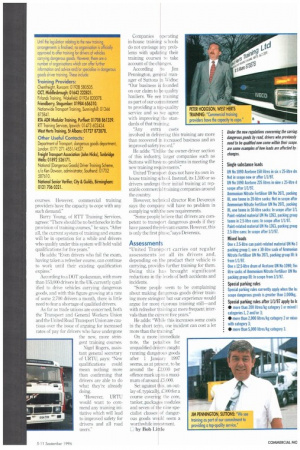 Page 46, 5th September 1996 —
Course fishi
Close
Aslong ago as the beginning of this year, the Department of Transport announced both that the UK would be adopting some of the provisions of Accord Dangereux Routier international legislation and that the training and examination systems for drivers of vehicles currying dangerous goods would change.
Training providers learnt about the proposed changes at meetings in January and March and were invited to submit their training plans and materials for approval by John Frisby., the national senior verifier for the DOTS agent, the City & Guilds.
After consultation with the industry. the DOT proposed that the new courses and examination structure would come into operation on 1 October this year and only those training providers whose courses and materials were approved by Frisby would be allowed to offer training after that date.
So far there have been relatively few applications and no training providers have been officially approved to offer the new courses.
Frisby says: "I've done my best to encourage organisat la ins to submit material to me for approval and I'm disappointed with the response. Everything that has been submitted has been dealt with and there is no backlog," he adds.
Approvals
A DOT spokesman explained that no approvals can be given under the new scheme yet because the legislation relating to it—which was expected to be formulated in July—has not yet come into force and is only now about to emerge from Parliament. According to the DOT, this delay occurred because of unforeseen delays in the consultation process between the industry and Health & Safety Executive.
At first sight, this gives training providers a prob lem. Even if the DOT and City & Guilds agree to introduce the new training and examination arrangements from the end of October rather than the beginning, most training providers will have to move swiftly to get approval for their new courses or face being prohibited from operating. There are now fears that the new, tougher examination standards may penalise drivers who are not highly literate. However Barry Young, managing director of Ipswich-based RTT Training Services, says: "The new exams are not likely to be too arduous. It's important to remember that we're training drivers, not chemists,"
Dave Liddle, managing director of Road Traffic Association ADR Modular Training, Purfieet, and a member of the National (Dangerous Substances) Driver Training Scheme, says: "We've run trials using simulated examination papers under the proposed examination conditions.
"We found that 36°c of candidates performed better under the new conditions than under the existing set-up, 36°c performed equally as well under both systems and the remaining 28"...v were only one or two marks worse off under the new system."
He adds: "Ultimately, it all depends on how memorable you make the course. Passing the exams should be a by-product of the training, not the sole aim."
Costs
Other operators' fears centre on the likely increased costs of the training and the widening scope of the legislation to include more drivers than are currently required to be qualified to carry dangerous goods.
"Under the new system costs are likely to increase. A three-day course will now take three-and-a-half days, including the exam," points out Liddle. "For example, the tanker module—which is currently a half-day session—becomes one-and-a-quarter days plus an exam."
Liddle also fears that the new system may prove difficult to police, with some trainers liable to bend to customer pressure for "condensed", corner-cutting, cheaper courses, thereby putting pressure on other, more scrupulous training providers to follow suit.
Peter Hodgson, chief executive of training school West Herts Training, says: "It's important to note that the new regulations bring a number of drivers into the scope of the regulations whose activities were not previously covered by UK dangerous goods legislation.
"Naturally, this will mean that a number of drivers will have to be trained and pass the exams before the end of this year and that is bound to produce a surge in demand for courses. However, CUIIIIIIL.TCla I training providers have the capacity to cope with any such demand."
Barry Young, of RI'!' Training Services, agrees: "There should be no bottlenecks in the provision of training courses," he says. "After all, the current system of training and exams will be in operation for a while and drivers who qualify under this system will hold valid qualifications for five years."
He adds: "Even drivers who fail the exam, having taken a refresher course, can continue to work until their existing qualification expires."
According to a DOT spokesman, with more than 153,000 drivers in the UK currently qualified to drive vehicles carrying dangerous goods, and with this figure growing at a rate of some 2.700 drivers a month, there is little need to fear a shortage of qualified drivers.
As far as trade unions are concerned, both the Transport and General Workers Union and the United Road Transport Union are cau tious over the issue of arguing for increased rates ,f pay for drivers who have undergone the new, more stringent training courses.
Nigel Rogers, assistant general secretary of URTU, says: "New qualifications could mean nothing more than confirming that drivers are able to do what they're already doing.
"However, URTU would want to commend any training initiative which will lead to improved safety for drivers and all road users."
Companies operating in-house training suhools do not envisage any problems with updating their training courses to take account of the changes.
According to Jim Pennington. general manager of Suttons n Widne: "Our business i founded on our claim to be quality hauliers,. We see training as part of our coMmitment to providing a top-quality service and so we agree with improving the standards of that mining.
"Any extra costs
involved in delivering this training are more than recovered in increased business and an improved safetyrecord."
He adds: "Unlike the owner-driver section of this industry, larger companies such as Suttons will have no problems in meeting the new training requirements."
United Transport does not have its own inhouse training Ail( xl, Instead, its 1,500 or so drivers undergo their initial training at reputable commercitl training companies around the country However, technical director Ron Devereux says the company will have no problem in complying with the new requirements.
"Some peoplo believe that drivers are competent to transort dangerous goods if they have passed thelrelevant exams. However, this is only the first hase,"saysDevereux.
Assessmen s
"United Transprt carries out regular assessments on all its drivers and, depending on the product their vehicle is carrying, provides further training for them. Doing this has brought significant reductions in the levels of both accidents and incidents.
"Some people seem to be complaining about making dangerous goods driver training more stringent hut our experience would argue for more rigorous training still—and with refresher emit' ing at more frequent intervals than the arrent five years."
He adds: "While this increases some costs in the short term, 'me incident can cost a lot more than the training."
On a more immediate note, the penalties for unqualified drivers caught running dangOrous goods after 1 Jantiar, 1997 seems, as at present. to be around the L2,000 per offence mark up to a maximum of around 0010.
Set against this. an outlay of, typicallyt, LC:a) for a course cover* the core, tanker.. .packages S nodules and seven of the nine specialist classes of dangerous goods would seem a worthwhile investment.
Li by Bob Little