Which curtiainsider gives you outstanding value for money?
5th September 1996
Page 39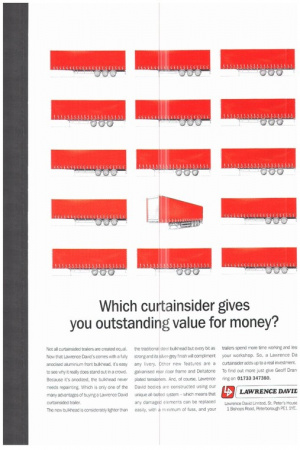 Page 40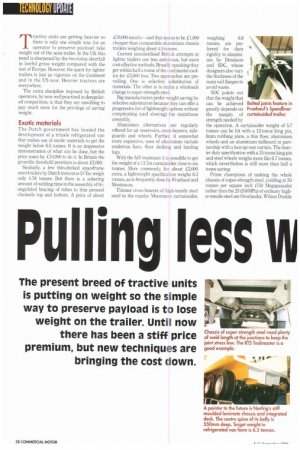 Page 39, 5th September 1996 —
Which curtiainsider gives you outstanding value for money?
Close
Not all curtainsided trailers are created equal. Now that Lawrence David's comes with a fully anodised aluminium front bulkhead, it's easy to see why it really does stand out in a crowd. Because it's anodized, the bulkhead never needs repainting. Which is only one of the many advantages of buying a Lawrence David curtainsided trailer.
the traditional,teel bulkhead but every bit as strong and its silver-grey frish will compliment any livery. Other new features are a galvanised rear door frame and Deltatone plated tensioners. And, of course, Lawrence David bodies are constructed using our unique all-bolted system — which means that any damaged elements can be replaced easily, with a mi nimum of fuss, and your
trailers spend more time working and les; your workshop. So, a Lawrence Da curtainsider adds up to a real investment. To find out more just give Geoff Dran. ring on 01733 347380.
Tractive units are getting heavier so there is only one simple way for an operator to preserve payload: take weight out of the semi-trailer. In the UK this trend is sharpened by the two-tonne shortfall in lawful gross weight compared with the rest of Europe. However, the quest for lighter trailers is just as vigorous on the Continent and in the US now. Heavier tractors are everywhere.
The extra discipline imposed by British operators, by now well practised in deregulated competition, is that they are unwilling to pay much more for the privilege of saving weight.
Exotic materials
The Dutch government has funded the development of a triaxle refrigerated van that makes use of exotic materials to get the weight below 6.5 tonnes. It is an impressive demonstration of what can be done, but the price soars by £10,000 to do it. In Britain the grumble threshold premium is about .£2,000.
Similarly, a few thin-decked spaceframe semi-trailers by Dutch innovator D-Tec weigh only 4.18 tonnes. But there is a sobering amount of welding time in the assembly of triangulated bracing of tubes to thin pressed channels top and bottom. A price of about £19,000 results—and that seems to be £1,000 cheaper than comparable aluminium chassis trailers weighing about 4.5 tonnes.
Current unsubsidised British attempts at lighter trailers use less ambitious, but more cost-effective methods. Broadly speaking they get within half a tonne of the continental exotica for ,C5,000 less. Two approaches are prevailing. One is selective substitution of materials. The other is to make a wholesale change to super-strength steel.
Big manufacturers prefer weight saving by selective substitution because they can offer a progressive list of lightweight options without complicating (and slowing) the mainframe assembly.
Aluminium alternatives are regularly offered for air reservoirs, cross-bearers, sideguards and wheels. Further, if somewhat more expensive, uses of aluminium include underrun bars, floor decking and landing legs.
With the full treatment it is possible to get the weight of a 13.7m curtainsider close to six tonnes. More commonly, for about £2,000 extra, a lightweight specification weighs 6.3 tonnes, as is frequently done by Fruehauf and Montracon.
Thinner cross-bearers of high-tensile steel used in the regular Montracon curtainsider, weighing 6.8 tonnes, are preferred for their rigidity to aluminium by Dennison and SDC, whose designers also vary the thickness of the main-rail flanges to avoid waste.
SDC points out
that the weight that • can be achieved Bolted joints feature in greatly depends on Fruehauf's Speedliner the margin of curtainsided trailer. strength needed by
the operation. A curtainsider weight of 5.7 tonnes can be hit with a 12-tonne king pin, 6min rubbing plate, a thin floor, aluminium wheels and an aluminium tailboard in partnership with a lace-up rear curtain. The heavier duty specification with a 15-tonne king pin and steel wheels weighs more like 6.7 tonnes, which nevertheless is still more than half a tonne saving.
Prime champions of making the whole chassis of super-strength steel, yielding at 50 tonnes per square inch (750 Megapascals) rather than the 23 (350MPa) of ordinary higher-tensile steel are Overlander, Wilson Double