culEit2
5th September 1996
Page 34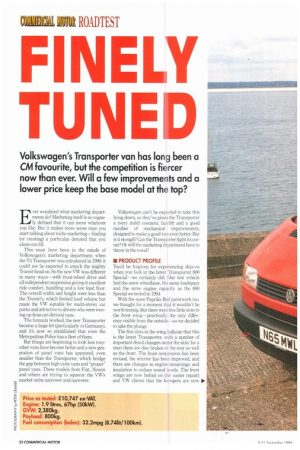 Page 36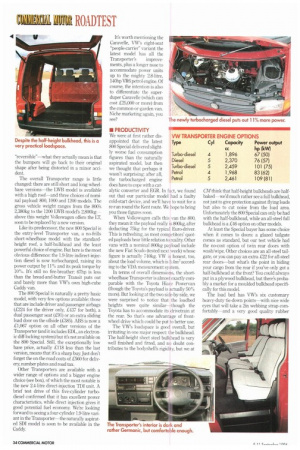 Page 37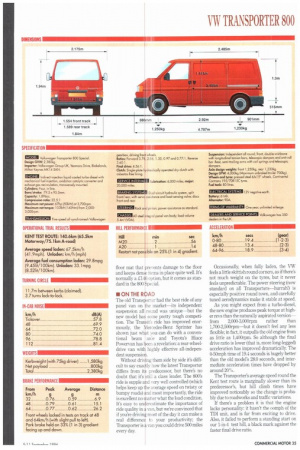 Page 38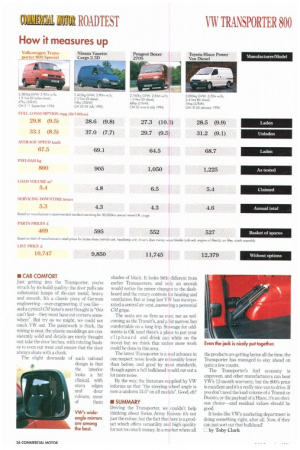 Page 34, 5th September 1996 —
culEit2
Close
lat2 ROADTEST
INELY UN I:1
Ever wondered what marketing departments do? Marketing itself is so vaguely defined that it can mean whatever you like. But it makes more sense once you start talking about niche marketing—finding (or creating) a particular demand that you alone can fill.
This must have been in the minds of Volkswagen's marketing department when the T4 Transporter was introduced in 1990: it could not be expected to attack the mighty Transit head-on. So the new VW was different in many ways—with front-wheel drive and all-independent suspension giving it excellent ride comfort, handling and a low load floor. The overall width and height were less than the Transit's, which limited load voltune but made the VW suitable for multi-storey car parks and attractive to drivers who were moving up from car-derived vans.
The formula worked, the new Transporter became a huge hit (particularly in Germany), and it's now so established that even the Metropolitan Police has a fleet of them.
But things are beginning to look less rosy: other vans have become better and a new generation of panel vans has appeared, even smaller than the Transporter, which bridge the gap between high-cube vans and "proper" panel vans. These models from Fiat, Nissan and others are trying to squeeze the VW's market niche narrower and narrower. Volkswagen can't be expected to take this lying down, so they've given the Transporter a (very mild) cosmetic facelift and a good number of mechanical improvements, designed to make a good van even better. But is it enough? Can the Transporter fight its corner? Or will the marketing department have to throw in the towel?
• PRODUCT PROFILE You'd be forgiven for experiencing deja-vu when you look at the latest Transporter 800 Special—we certainly did. Our test vehicle had the same wheelbase, the same loadspace and the same engine capacity as the 800 Special we tested in 1994.
With the same Paprika Red paintwork too, we thought for a moment that it wouldn't be worth testing. But there were five little slots in the front wing—practically the only difference visible from the outside—so we decided to take the plunge.
The five slots in the wing indicate that this is the latest Transporter, with a number of important detail changes under the skin: for a start there are disc brakes at the rear as well as the front. The front suspension has been revised, the interior has been improved, and there are changes to engine mountings and insulation to reduce sound levels. The front wings are now bolted on (for easier repair) and VW claims that the bumpers are now 110. "reversible"—what they actually mean is that the bumpers will go back to their original shape after being distorted in a minor accident.
The overall Transporter range is little changed: there are still short and long-wheelbase versions—the LIVB model is available with a high roof—and three choices of nominal payload: 800, 1000 and 1200 models. The gross vehicle weight ranges from the 800's 2,380kg to the 1200 LWB model's 2,800kg above this weight Volkswagen offers the LT, soon to be replaced by a new version.
Like its predecessor, the new 800 Special is the entry-level Transporter van, a no-frills short-wheelbase model with the standardheight roof, a half-bulkhead and the least powerful choice of engine. But here is the most obvious difference: the 1.9-litre indirect-injection diesel is now turbocharged, raising its power output by 11% and its peak torque by 10%. It's still no fire-breather: 6'7hp is less than the bread-and-butter Transit puts out and barely more than VW's own high-cube Caddy van_ The 800 Special is naturally a pretty basic model, with very few options available: those that are include driver and passenger airbags (L224 for the driver only, £437 for both), a dual passenger seat (..£91) or an extra sliding load door on the offside (£.385). ABS is now a £1,067 option on all other versions of the Transporter (and it includes ED!, an electronic diff-locking system) but it's not available on the 800 Special. Still, the exceptionally low base price, actually £118 less than the last version, means that it's a sharp buy. Just don't forget the on-the-road costs of £560 for delivery, number plates and road tax.
Other Transporters are available with a wider range of options and a bigger engine choice (see box), of which the most notable is the new 2.4-litre direct-injection TI)! unit. A brief test drive of this five-cylinder turbodiesel confirmed that it has excellent power characteristics, while direct injection gives it good potential fuel economy. We're looking forward to seeing a four-cylinder L9-litre variant in the Transporter—the naturally aspirated SDI model is soon to he available in the Caddy. It's worth mentioning the Caravelle, Viiirs eight-seat "people-carrier" variant: the latest model has all the
Transporter's improvements, plus a longer nose to accommodate power units up to the mighty 2.8-litre, 140hp VR6 petrol engine. Of course, the intention is also to differentiate the superduper Caravelle (which can cost £25,000 or more) from the common-or-garden van. Niche marketing again, you see?
We were at first rather disappointed that the latest 800 Special delivered slightly worse fuel consumption figures than the naturally aspirated model, but then we thought that perhaps it wasn't surprising: after all, the turbocharged engine does have to cope with a catalytic converter and EGR. In fact, we found out that our particular model had a faulty cold-start device, and we'll have to wait for a re-run round the Kent route. We hope to bring you those figures soon.
When Volkswagen calls this van the 800, they mean it: the payload really is 800kg, after deducting 75kg for the typical Euro-driver. This is refreshing, as most competitors' quoted payloads bear little relation to reality. Other vans with a nominal 800kg payload include the new Fiat Scudo (tested next week) whose figure is actually 740kg. VW is honest, too, about the load volume, which is 5.4m3according to the VDA measurement system.
In terms of overall dimensions, the shortwheelbase Transporter is almost exactly comparable with the Toyota Hiace Powervan (though the Toyota's payload is actually 50% more). But looking at the two side-by-side, we were surprised to notice that the loadbed heights were quite similar—though the Toyota has to accommodate its drivetrain at the rear. So that's one advantage of frontwheel drive which could be put to better use.
The VW's loadspace is good overall, but irritating in one major respect: the bulkhead. The half-height sheet steel bulkhead is very well finished and fitted, and no doubt contributes to the bodyshell's rigidity, but we at
Type Turbo-diesel Diesel Turbo-diesel Petrol Petrol
CM think that half-height bulkheads are halfbaked—we'd much rather see a full bulkhead, not just to give protection against flying loads but also to cut noise from the load area. Unfortunately the 800 Special can only be had with the half-bulkhead, while an all-steel full bulkhead is a £46 option on other models.
At least the Special buyer has some choice when it comes to doors: a glazed tailgate comes as standard, but our test vehicle had the no-cost option of twin rear doors with wash/wipe. Other choices are an all-steel tailgate, or you can pay an extra £22 for all-steel rear doors—but what's the point in hiding your cargo from the rear if you've only got a half-bulkhead at the front? You could always put in a plywood bulkhead, but there's probably a market for a moulded bulkhead specifically for this model.
The load bed has VW's six customary heavy-duty tie-down points—with nice wide eyes that will take a 2in webbing strap comfortably—and a very good quality rubber floor mat that prevents damage to the floor and keeps dense items in place quite wellies normally a £1443 option, but it comes as standard in the 800 Special.
• ON THE ROAD
The old Transport,er had the best ride of any panel van on the market-its independent suspension all round was unique-but the new model has some pretty tough competition. The Trarvit's ride has improved enormously, the Mercedes-Benz Sprinter has shown just what ■ ou can do with a conventional beam axle and Toyota's 1-liace Powervan has been a revelation: a rear-wheeldrive van with highly effective all-independent suspension.
Without driving them side by side it's difficult to say exactly how the latest Transporter differs from its predecessor, but there's no doubt that it's stil: a class leader. The 800's ride is supple and very well controlled (which helps keep up the average speed on twisty or bumpy roads) and most importantly, the ride is excellent no matter what the load condition. It's easy to underestimate the importance of ride quality in a van, but we're convinced that if you're driving most of the day it can make a real difference to your productivity; the Transporter is a van you could drive 500 miles every day. Occasionally, when fully laden, the VW feels a little skittish round corners, as if there's not much weight on the tyres, but it never feels unpredictable. The power steering (now standard on all Transporters-hurrah!) is especially positive round town, and carefully tuned aerodynamics make it stable at speed.
As you might expect from a turbo-diesel, the new engine produces peak torque at higher revs than the naturally aspirated versionfrom 2,000-3,000rpm rather than 1,700-2,500rpm-but it doesn't feel any less flexible; in fact, it outpulls the old engine from as little as 1,400rpm. So although the final drive ratio is lower (that is, more long-legged) acceleration has improved dramatically. The 0-50mph time of 19.4 seconds is hugely better than the old model's 28.0 seconds, and intermediate acceleration times have dropped by around 20%.
The Transporter's average speed round the Kent test route is marginally slower than its predecessor's. but hill climb times have improved noticeably so the change is probably due to roadworks and traffic variations.
If there's a problem it is that the engine lacks personality: it hasn't the oomph of the TD1 unit, and is far from exciting to drive. Also, it failed to perform a standing start on our 1-in4 test hill, a black mark against the faster final drive ratio.
• CAB COMFORT
Just getting into the Transporter, you're struck by its build quality: the door pulls are substantial lumps of die-cast metal, heavy and smooth. It's a classic piece of German engineering-over-engineering, if you like and a cynical GM testers next thought is this can't last-they must have cut corners somewhere", But try as we might, we could not catch VW out. The paintwork is thick, the wiring is neat, the plastic mouldings are consistently solid and details are nicely thought out: take the door latches, with rotating bushes to even out wear and ensure that the door always shuts with a clunk.
The slight downside of such rational design is that the interior looks a bit clinical, with stern edges
•
and dour colours, most of them
shades of black. It looks little different from earlier Transporters, and only an anorak would notice the minor changes to the dashboard and the rotary controls for heating and ventilation. But at long last VW has incorporated a central air vent, answering a perennial CM gripe.
The seats are as firm as ever, not as welcoming as the Transit's, and a bit narrow, but comfortable on a long trip. Stowage for odd ments is OK (and there's a place to put your cl ipboard and drink can while on the move) but we think that rather more work could be done in this area The latest Transporter is a real advance in one respect: noise levels are noticeably lower than before, and good by most standards, though again a full bulkhead would cut out a lot more noise.
By the way, the literature supplied by VW informs us that "the steering-wheel angle is now a uniform 3411° on all models". Good, eh?
• SUMMARY
Driving the Transporter, we couldn't help thinking about Swiss Army Knives: it's not just the colour, but the fact that here is a product which offers versatility and high quality for not too much money. In a market where all
the products are getting better all the time, the Transporter has managed to stay ahead on quite a few counts.
The Transporter's fuel economy is unproven, and other manufacturers can beat VW's 12-month warranty, but the 800's price is excellent and it's a really nice van to drive. If you don't need the load volume of a Transit or Ducato, or the payload of a Hiace, it's an obvious choice-and residual values should be good.
It looks like VW's marketing department is doing something right, after all. Now, if they can just sort out that bulkhead!
L by Toby Clark