letters
5th September 1996
Page 32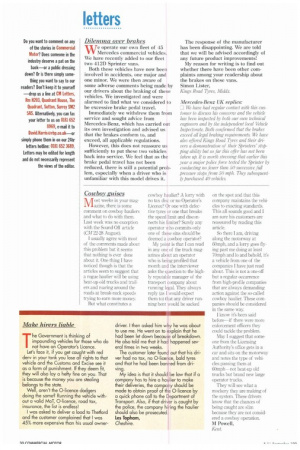 Page 32, 5th September 1996 —
letters
Close
Dilemma over brakes
We operate our own fleet of 45 Mercedes commercial vehicles. We have recently added to our fleet two 412D Sprinter vans.
Both these vehicles have now been involved in accidents, one major and one minor. We were then aware of some adverse comments being made by our drivers about the braking of these vehicles. We investigated and were alarmed to find what we considered to be excessive brake pedal travel.
Immediately we withdrew them from service and sought advice from Mercedes-Benz, which has carried out its own investigation and advised us that the brakes conform to, and exceed, all applicable regulations.
However, this does not reassure us sufficiently to put these two vehicles back into service. We feel that as the brake pedal travel has not been reduced, there is still a potential problem, especially when a driver who is unfamiliar with this model drives it. The response of the manufacturer has been disappointing. We are told that we will be advised accordingly of any future product improvements!
My reason for writing is to find out whether there have been other complaints among your readership about the brakes on these vans.
Simon Lister, Kings Road Tyres, Middx.
Mercedes-Benz UK replies: We have had regular contact with this customer to discuss his concerns and the vehicle has been inspected by both our 04/12 technical engineers and by the independent local Vehicle Inspectorate. Both confirmed that the brakes exceed all legal braking requirements We have also offered Kings Road Trres and their drivers a demonstration of their Sprinters' stopping ability but so far this offer has not been taken up. It is worth stressing that earlier this year a major police free tested the Sprinter by conducting no fewer than 50 successive jid pressure slops from 50 mph, They subsequently purchased 40 vehicles